Vijayawada actually means "The Place of Victory". It is otherwise called Bezawada, it is known as the business capital of Andhra Pradesh. It is the second biggest and most populous city in Andhra Pradesh. Situated on the banks of the Krishna River within the regions of Krishna District at a distance of about 18.5 km from the state capital – Amaravati. It is spread over an area of 61 square km with a population in excess of ten million. Overall, it is a great option for you to dwell, secure a livelihood, get married, and settle in. Though it has great options as the venue, maybe you would like to prefer a banquet hall in Vijayawada to have an exuberant in-door function.
Dv Manor Banquet Hall is considered as a top banquet hall in Vijayawada. It has an enormous banquet hall to let you play host to your kins. This versatile venue is ideal for both large social and corporate gatherings. You may plan engagements, weddings, and reception ceremonies or business seminars and conferences over here. It would charm your guests with its elegance, pendant lightings, plush seating arrangements, and a decorated ceiling. It has state of the art amenities and commendable services to ensure that your guests always feel at home over here. It lies on MG Road, within the boundaries of Acharya Ranga Nagar.
Dv Manor Banquet Hall, Labbipet, Vijayawada
Address- Dv Manor Banquet Hall, MG Road, Acharya Ranga Nagar, Benz Circle, Vijayawada, Andhra Pradesh 520010
Key Features
Ample parking space and valet service
Allows alcohol consumption
Spacious banquet hall
OYO Townhouse 228 Hotel Alana is amongst the best banquet halls in Vijayawada. An attractive hotel offers multiple banquet halls of small to mid-sized capacities, that are perfect for hosting birthday parties, reunions, family get-togethers, engagements, receptions, and intimate weddings. The halls sport plain white walls and oak wood floors, but the main focus is the false ceiling with a swanky design. It provides a team of skilled decorators to deck up the venue. The hotel offers cozy rooms decked up with all modern amenities, that give you and your guests a comfortable stay. It is located 7 minutes away from Vijayawada Station which makes it feasible for all. 
OYO Townhouse 228 Hotel Alana, Governor Peta, Vijayawada
Address- OYO Townhouse 228 Hotel Alana, Challapalli Bungalow, No 27-1-149, Prakasam Rd, Governor Peta, Vijayawada, Andhra Pradesh 520002
Key Features
In-house decor and catering
A cluster of banquet halls
Lodging amenities
The Gateway Hotel is a popular banquet hall in Vijayawada. It is a five-star venue close to the city's business district from some of the best tourist hotspots. It is a perfect venue for hosting a lavish wedding with breathtaking views and a serene environment. The hotel has an elegant architecture with an astounding heritage feel for the guests. The entrance is a wide-open courtyard porch greeting the guests. The massive chandeliers give the feel of Roman-era architecture and create the aura of royal ambiance. The venue has enough number of rooms that you can book for your guests in advance to make their stay comfortable.
The Gateway Hotel, Labbipet, Vijayawada
Key Features
Ample of parking space plus valet facility
A cluster of banquet halls
Roman-era architecture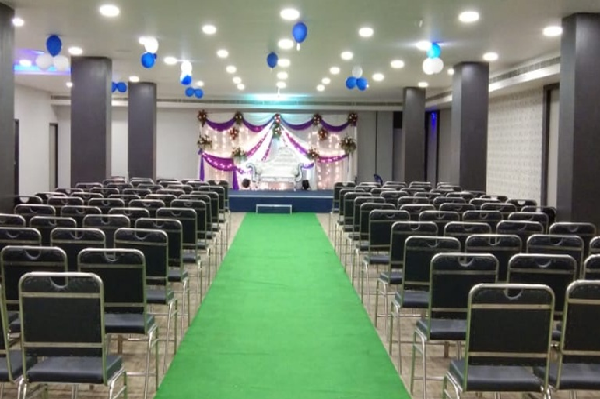 The ethereal world inside Occasion Event And Banquet Hall, Vijayawada, is sure to leave you mesmerized at the onset. Nestled in Sidhartha Nagar, this gorgeous venue is home to a beautiful banquet hall to ring in weddings, receptions, and other special occasions. Laced with fine furnishings, elegant lights, and sophisticated decor, it invokes scintillating vibes. Comfortably hosting a considerable number of patrons, you can now go out and invite your distant and dear ones to be a part of your special day.
Occasion Event And Banquet Hall, Labbipet, Vijayawada
Address- Occasion Event and Banquet Hall, Near Karchi Bakery, Opposite Hotel Murali Fortune, Sidhartha Nagar, Labbipet, Vijayawada, Andhra Pradesh 520010
Key Features
Allows external caterers and decorators
Allow alcohol consumption
Enormous banquet hall
Jyothi Convention is a large banquet hall in Vijayawada. It is a scintillating venue that houses a spacious banquet hall and a sprawling lawn. This place is sure to floor you with its charm and splendor. From your grandiose social events as well as your much sought after wedding and reception, this venue is ideal for all. Adorned with intricate embellishments, vibrant hues, and chic decor, the hall is best suited for grandiose gatherings of a large number of guests. You are free to outsource the catering and decor as per your preference. Located on Service Road, this venue is situated near ANCONS International, making it well-connected and easily accessible. 
Jyothi Convention, Labbipet, Vijayawada
Address- Jyothi Convention, NH 16 Service Road, Chandra Mouli Puram, Sriram Nagar, Benz Circle, Vijayawada, Andhra Pradesh 520010
Key Features
Sprawling lawn plus an enormous banquet hall
Allows external decorators and caterers
Ample parking space plus valet facility
After going through the aforementioned wedding venues, have you managed to fixate on a particular banquet hall in Vijayawada for your upcoming wedding festivity? If yes, then please mention it in the comments section.