Neeraj & Aditi Delhi : This wedding album is a treasure trove of happy memories.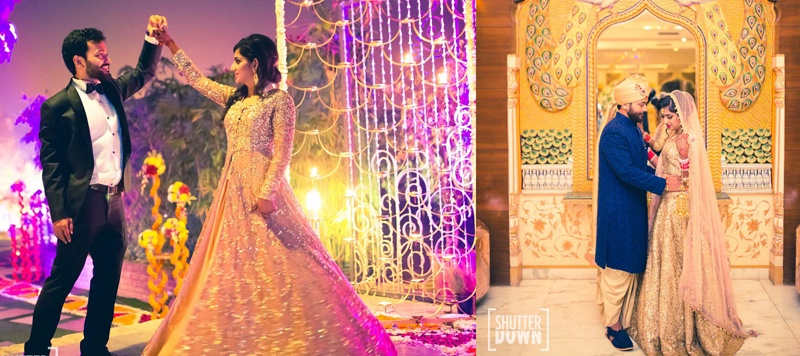 Happy brides make for pretty weddings. It's true. This wedding album is a treasure trove of happy memories. Aditi's laughter rings through each and every picture, her energy and exuberance spills out, almost like a third dimension. She is the undeniable star of her wedding story.
Shot by the deft lensman at Shutterdown, this wedding album is about the people who're in it. It's about capturing people, emotions, smiles, laughter and festivity – everything else just follows. Folks at Shutterdown understand, it's all about the memories with people that you cherish, at the end of the day. We love the entire close ups of Aditi and the funky shots with Neeraj. This is just such a fun wedding; we almost did a jig while going through the pictures.
The wedding was organized at Noormahal and what a stunner this space was. This opulent and palatial wedding venue, needed little décor and that was exactly the approach in this wedding. Dramatic lighting and minimal décor brought out all the architectural details of this absolutely gorgeous Delhi venue. Fresh flowers were used for lawn décor. Worth checking out were the centrepieces made of orchids, white carnations and birdcages. Noormahal palace, the warm glow of candlelight, fresh flowers and the shining bride – this wedding just inspires at so many different levels.
Oh, and we must, must talk about the clothes. Aditi's pre wedding function pastel outfit paired with gold jhumaaks was right on trend. This mint green and candy pink ensemble with mirror work and gotapatti made for perfect wedding day wear, without going over the top on the bling factor. We see Aditi twirling in a white anarkali gown with a long shimmery cape jacket. Our bride definitely knows how to raise the bar on glam now, doesn't she? Aditi kept with the shine theme and wore a fully sequined lehenga for her wedding. This outfit in liquid gold was a daring choice but Aditi carried it off with such grace and pizzazz. Gold peep toe stilettos, gold jewellery and red flowers in her hair completed her look. We can rightly say, she looked like the NoorJahan of Noormahal.
We cannot help but dedicate a whole paragraph to Neeraj's high groom style. The black tux, complete with a white shirt and bow tie was a classy choice for the evening pre wedding function. But what really caught our eye was his glorious royal blue textured sherwani paired with coordinated embroidered jooti style slip ons and a gold safa that Neeraj wore for the wedding.
Go though Aditi and Neeraj's wedding album for some great ideas when planning your own.