Ankit & Anvita Udaipur : This pretty bride in red lehenga got married in the most gorgeous destination wedding in Udaipur!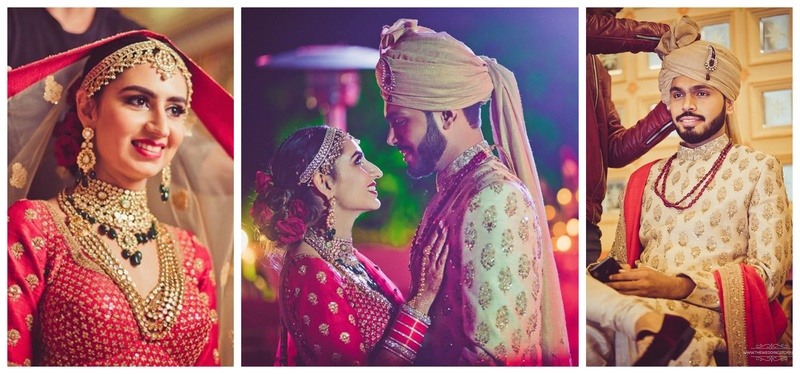 Ankit and Anvita just got hitched in a perfectly amazing wedding ceremony, beautifully planned by Frozen Apple Weddings at Hotel Chunda Palace, Udaipur and Fatehgarh. The wedding was a total fairytale affair and Hotel Chunda Palace, Udaipur and Fatehgarh left no stone unturned in providing the couple with a place of their dreams. We saw some of the most adorable pictures from the collection of their wedding photographer The Wedding Story.
The cute couple had a grand pre and post wedding celebration as well and to compliment the scenic beauty of Hotel Chunda Palace, both the bride and groom chose all their wedding outfits from the Sabyasachi collection.
The bride looked like an absolute princess in a red Sabyasachi lehenga and complimenting it, was a royal yet subtle make-up done by Amrit Kaur and Daniel Bauer himself.
Their journey
Anvita and Ankit don't just look like a beautiful fairytale couple but also have a heart melting love story hidden behind. The couple met for the first time in US when Ankit came to visit a college friend and guess who her roommate was? Definitely the to be soulmate of Ankit, Anvita.
Ankit knew he had fallen for her from the very first day he saw her.
She had a very positive and dynamic personality and I couldn't stop myself from thinking about her. I was so eager to know about this new girl in town.
But he couldn't gather the courage to talk to her that very day. Ankit played smart and asked Anvita out to a temple the very next day. Located on a beautiful beachside, the Malibu temple had a beautiful pathway amidst the mountains. Sounds like a perfect date now, doesn't it?
Since that date, the couple knew that this journey had  a long way to go. They started meeting more often and went on alot of trips.
It was one of those days, when Anvita was out of town and Ankit being a sports person was playing ice hockey and dislocated his right shoulder. Anvita left everything and straightaway came to see if Ankit was fine.
That was the day when Ankit got a phenomenal feeling and he knew she was the one for him.
Among a billion strangers, when you've found that perfect soulmate you know you've found a home away from home.