Raj & Heral New York : Meet Heral, a Bride who did her own Makeup and Designed her Bridal Ensembles!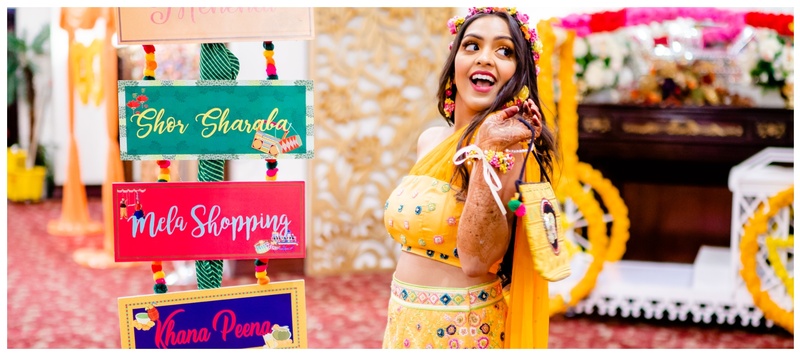 The Love Story
"To the world, you may be just one person, but to one person you may be the world." — Brandi Snyder
True, isn't it? Love has its own machinations to get people together even though it may seem otherwise in the beginning. Maybe that's why cupid is still in business even today. Talking about love, here is a couple who made it together even when odds weren't in their favour… many times! 
Raj and Heral were in the same school in Long Island for three years. However, they weren't in the same circles who became distant friends as Raj was a year older and in a different grade. They went separate ways for college and Heral thought she would never meet him again. Fast forward to two years later, they bumped into each other again. At that time, Heral was a sophomore at the Fashion Institute of Technology and Raj was a junior at New York University. "In 2014, I moved into an apartment with two friends who attended NYU. By chance, one of them invited me to his apartment-warming party. After three years, it was that night that I ran into Raj again! I was so happy to see a familiar face from high school and to reconnect. At the time, however, he was dating someone else—and so I didn't push my luck with him," says Heral.
Again, life came in the way of these destined lovebirds, i.e., they didn't see each other for the next few months and Heral moved to Florence, Italy to pursue a course. Again, they lost touch with each other. But once when Heral returned to New York, she bumped into Raj again! It was like serendipity! "I had made dinner plans with my former roommate, she told me Raj would be joining us. I didn't connect the dots or even think it was the same Raj. NYU is filled with people named Raj! To my surprise, it was Raj from high school! After hanging out, I told my friend that I found him really cute, and (much to my excitement) she told me he was single." – Heral.
Post this chance meeting, they started hanging out and talking more, but because he was busy studying for his LSAT, he gradually distanced himself. Thinking he wasn't interested, she stopped reaching out too. Later, she attended a friend's birthday party only because she knew he would be there.
"Unfortunately, I left the party early and didn't have time to say bye, but soon after got a text from him officially asking if he could take me out on a date. I was thrilled. Knowing how much I missed Italy, he took me to an amazing Italian restaurant in the city." – Heral.
During the date, neither of them touched their phones or even left a moment of silence. They ended up staying at the restaurant for three hours—so long that the staff had to eventually ask them to leave. "I genuinely loved talking to him. Over the next few months, we would spend hours upon hours talking, texting, having deep and funny conversations, staying up until we forced one another to go to sleep. At that point, I knew I would marry him one day." – Heral
Being complete opposites; Raj being the calmer, cooler and collected one to Heral's hyperactive self, helped the couple become each other's missing half.  
The Wedding
As per the couple, planning the wedding was the hardest thing they encountered and we don't blame them! With full-time jobs and long-distance, it was a tough task. But they did manage thanks to an amazing wedding planner! Their wedding planner helped them in scheduling and planning ahead. They also held many family meetings to ensure everyone was on the same page.
"I was also a bit neurotic about things that needed to get done, so every day I would look at our many Google Docs and make to-do list after to-do list. I also organized all the decor for our events and labelled everything in boxes so it was clear and easy for our families and the wedding planning team when the time came to set up our events. All the crazy hours and list-making worked out!" – Heral. 
Heral is a self-confessed flower-fanatic so each event was centred around a specific flower and this was a pattern consistent throughout the wedding. Each flower had a different meaning: 
Mehndi Day: Delphinium—A flower that symbolizes big-heartedness, joy, and fun. 
Grah Shanti: Aster—A flower that represents wisdom and devotion. 
Sangeet: Viscaria—A flower that symbolizes an invitation to dance. 
Wedding Day: Jasmine—A flower that symbolizes unconditional and eternal love. 
Reception Day: Rose—A flower that symbolizes true love. 
Heral wanted flowers to be seen more than just a beautiful item, but for people to know the meaning behind each one. Plus, "I designed all my outfits. I knew what I wanted and had designed all my outfits before even getting engaged. I had a vision and wanted to be sure I could make it happen for the wedding." – Heral. In fact, this bride went a step ahead – given her love for makeup, she did her own makeup for her wedding. She managed so for each one of her wedding looks.
For photography and wedding planner 
"Recall Pictures captured all the precious moments during the wedding and truly portrayed mine and Raj's love for each other. Urvashi Mishra, our wedding coordinator, did an outstanding job with all the things going on and made things happen. Wedding Design and Décor did a wonderful job transforming our wedding and reception venue and executing the beautiful floral theme."
The Dream Team
Photographers: Recall Pictures 
Venue for the Wedding and Reception: The Legacy Castle 
Food: Five Chefs 
Wedding Coordinator: Urvashi Mishra 
Outfits: @Heralbeauty_
Makeup: @Heralbeauty_
Hair stylist: Gina Marie 
Flower Malas: Vivek Flowers