10 Beautiful Floral Hairstyles for Brides and Bridesmaids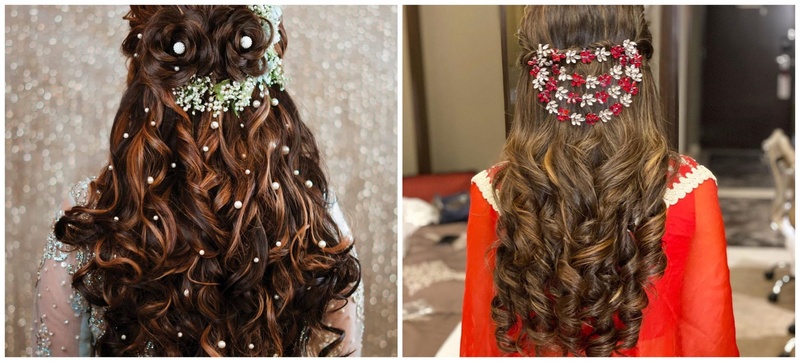 Your hairdo is an essential aspect of your bridal look. So much so that, it can be a real deal-breaker if not done right! Imagine investing in all those exquisite jewels, expensive couture and ruining it all with a disappointing hairstyle! To salvage you from this blunder and turn into splendor, we've put together this curated list that brings to you hairstyle ideas and options aplenty. Taking inspiration from the floral fad, this list presents a range of exciting hairdos with breathtaking floral arrangements.
From pre-wedding hairstyles to reception looks, you can find it all in here. Take a look:
1. Braided Beauty!
Image Source Ritika Kadam
Braids are a big go-to for new brides-to-be and work perfectly well for your pre-wedding festivities. Opt for this fishtail braid and flaunt it with a trail of fresh roses for a vintage look!
2. A Captivating Crown for the Bridal Queen!
Image Source Van Kris
Image Source Jasmeet Kapany Hair & Makeup
Bridal crowns or bands have been in vogue for a while now and are certainly here to stay! Reason? They can lift up almost any look instantly! Don it with a loose french braid or simply let it adorn your curly tresses.
3. Cascading Charmers!
Image Source Mackensey Alexander
Image Source Ritika Kadam
There are a million ways to do justice to those lovely long tresses. The quintessential way, however, is to curl them up in a different way and decorate them with stunning spring buds! Or simply experiment with the floral arrangement like this three-sided curve and mix and match 'em with the color of your outfit.
4. Garden of Eden!
Image Source Hot Hair Balloon
Make way for this royal braided bun entwined with seasonal flowers for an ethereal look!
5. The Spiral Stunner!
Image Source Orange The Salon
A shout-out to experimental brides out there! This intricate spiral braid loaded with delicate rosette buns and curls makes for a bold statement. Jazz it up with minimal jasmine buds and strings to strike the perfect balance!
6. Floral to the Fullest!
Image Source South Indian Brides
Pay an ode to the classical long french braid with this floral overload! Leaving room for merging a number of flowers in different styles, this one makes for a beautiful bouquet.
7. Mesmerizing Mogra Magic
Image Source Zing Creation Apparels
You can never go wrong with a bunch of lively mogra flowers hugging your hair! Don the classic big bun and embellish it with the beauty of fresh mogras. Mogras with pastel shade apparels make for a dream team!
8. Vintage Vibes!
Image Source Le Fleur Jewels
Celebrate the timeless beauty of your being with these royal roses bunched up to perfection!
9. The Elegant Elan!
Image Source Orange The Salon
Opt for this exuberance donning fine flowers in between the messy bun look! This hairdo is a hit for your reception and compliments your intricate bridal gown.
10. Suave and Style!
Image Source Indian Wedding
This one-sided floral arrangement works wonders with fabulously curled-up hair! If you like it intricate yet minimal, this one surely makes the cut.
Swooning over these amazing floral hairdos is not enough. We hope you've shortlisted your favorites and bookmarked em all!