12 Unconventional Pre-wedding Shoot Ideas For Quirky Couples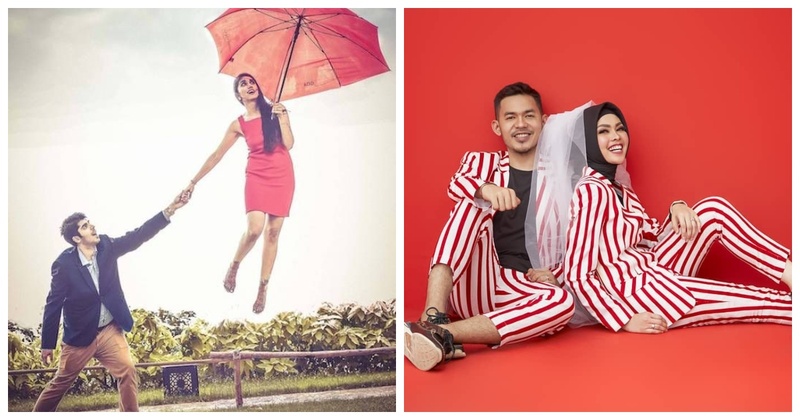 12 Unconventional Pre-wedding Shoot Ideas For Quirky Couples
Pre-wedding photoshoots are a great way to get ready for the big day. But why stick to the ordinary when you can stand out of the box? Pre-wedding shoots capture the essence of your relationship and pack it in a beautiful box of memories. Here are a few ideas to play around with to make sure your pre-wedding photoshoot LEGENDARY.
1) A Small And Cute Pre-wedding Play Time
"It's a small world after all."
-Disney's 'Small World'
Source: CreativeWeddingPhotography
Get creative and have a lot of fun on your pre-wedding shoot. The only way you'll find out how the pictures look will be after you click them.
Tip:  Hire photographer who has worked with such photography concepts before, so that you can play around with backgrounds and objects.
2) A Harry Potter-Themed shoot
"Always!"
-Harry Potter and the Deathly Hallows
Source: PinImg
Honestly, the entire book series was one big love story. Why not incorporate the world of witches and wizards in your pre-wedding shoot album?
3) Let The Fairytale Begin
"A dream is a wish your heart makes."
-Cinderella
Source: Hikendip
Did you bond with your partner over Disney movies? If yes, then this is one for you. Unleash your inner princess and prince charming, look deeply into each other's eyes and just enjoy being in love.
4) A Magical Walk
"Love is like the wind, you can't see it but you can feel it." 
― Nicholas Sparks, A Walk to Remember
Source: Strands of Silk
Let your photographer unleash his/her creativity through simple forms of magic for a Nanny McPhee inspired outcome. These beautiful pictures will last the whole journey and will definitely bring a smile to your face.
5) Bring Bollywood Home
"Kuch kuch hota hai Rahul, tum nahi samjhoge."
-Kuch Kuch Hota Hai
Source: soozanapvan
Let your Bollywood roots take over. Get your hair and makeup done. Pick a bright red saree, and let the drama flow.  
6) Get Back To Your Roots
"There is nowhere you could go that I won't be with you."
-Moana
Source: Nandito Photography `
Culture is an important part of any Indian wedding. Use cultural clothes and traditions for your pre-wedding shoot and embrace your heritage.
7) Play With Colours
"I see your true colours
And that's why I love you."
-True Colours, Cyndi Lauper
Source: Gireesh Chalakudy
Colourful walls, colourful bags or a pop of pink lipstick will make your pre-wedding shoot bright and beautiful.
8) Play With Patterns
"Kehte hain agar kisi cheez ko dil se chaho … to puri kainaat usse tumse milane ki koshish mein lag jaati hai."
-Om Shanti Om
Source: Yudisomar
Patterns and colours will provide your photos with definition and make your fiance look the best.
9) Twinning
"But none of them will ever love you
The way I do, it's me and you, boy."
– Toy Story
Source: Kusumawidanti
You can never go wrong twinning with your best friend. So pick the small outfit. Head to a beach or a cabin in the hills and get the cutest pictures.
10) Include Your Pet In Your Pre-wedding Shoot
"I thought that it mattered what I said or where I said it, then I realized the only thing that matters is that you make me happier than I ever thought I could be."
-FRIENDS
Source: Fotonesa
They have been a close companion to either you or your loved one. Adding them to your pictures will add warmth and happiness.
11) City Walk Photo Series
"Ever thine, ever mine, ever ours."
-Beethoven
Source: Svarga Photography
Dress up a little and take a walk through your favourite by lanes in your city with your partner. Candid pictures work best for this type of shoot.
12) Let Nature Make It Beautiful
"In all things of nature there is something of the marvelous.
-Aristotle
Source: Wedding twinkles
Pick your dream destination and get your photo shoot done there. Add a touch of the environment to capture the local essence in your story.
Pictures speak a thousand words, let yours speak about your quirky love.