20 Stunning Festive Mehndi Designs for 2019
If you were searching for the latest mehndi designs 2019, then you are in for a great surprise. Here, I have curated a list of 20 new mehndi designs that can be worn for all auspicious occasions including weddings, Karwa Chauth, Chatt Pooja, Diwali, Eid and so on.
Right from simple mehndi designs to traditional mehndi designs, I have jotted down latest mehndi design images 2019 for you to save and use as a reference for all festive occasions of this season. Whatever your choice maybe, there is a beautiful henna design that's perfect just for you. Scroll on, and tell us which is your favorite mehndi design 2019 in the comments below.
1. Simple mehndi design 2019 for backhand
Image Source: Heena Paradise
Got a small festive occasion coming up? Don't want to fill your hands with henna design? Pick a simple and elegant new mehndi design like this one for any occasion of 2019
2. Dainty motif new mehndi design
Not a fan of big and bold mehndi design motifs? We've got you covered. Opt for a simple mehndi design like this one with dots, petite flowers and petals.
3. Lotus motif latest mehndi design 2019
Image Source: Mehndi Seasons
While the use of lotus henna design is quite common in bridal mehndi, creating a simple and unique mehndi design with lotuses is definitely fresh and attractive. Pick something like this for a friend's engagement or festive occasion at home.
4. Fine ditsy mehndi design
Image Source: Henna by Haleema
Are you an intricate mehndi design lover too? If yes, then this beautiful ditsy pattern henna is something you'll totally adore. Get a new mehndi design like this for Karwa Chauth!
5. Tulip pattern mehndi design 2019
Image Source: Nurah's Henna
There's nothing more beautiful that simplicity. This mehndi design 2019 with tulips and fine pattern on fingers is modern and ideal for a friend or cousin's wedding; especially if you are planning to wear something contemporary for her big day.
6. Curves, lines and all simple mehndi design motifs
Image Source: Devi Mehndi
This mehndi design here is one of the simplest to draw by yourself too! Got a creative streak? Get a mehndi cone and let this mehndi design image inspire you to create something curvy and elegant.
7. Aztec pattern mehndi design for 2019 brides
Not a big fan of traditional bridal mehndi design? Pick something modern, minimal and attractive like this! The Aztec patterns with straight lights and linear motifs make mehndi design definitely one of the best of 2019.
8. The traditional mehndi mandala design with a twist
This new mehndi design 2019 gives a contemporary twist to the classic mandala motif of mehndi. You can wear this if you want something that's traditional but also has a modern spin to it.
9. The peacock feather latest mehndi design 2019
Fancy a beautiful peacock feather? Why not get a mehndi design of it on your forearm? It is intricate, beautiful and perfectly modern if you don't want to get a traditional mehndi design.
10. Bold yet minimalistic mehndi design 2019
If you want the perfect mix of bold and minimal for your mehndi design, then this one right here is the way to go!
10. The full hand bridal mehndi design 2019
Image Source: Henna for all
If you are a to-be bride who is looking for some interesting bridal mehndi designs 2019, then this beautiful full hand bridal henna is something you can definitely consider for your big day.
11. The simple mandala style feet mehndi design 2019
While mandala mehndi motifs remain to be popular for hand mehndi, they are less commonly used on the feet. If you want you bridal feet mehndi to look a little different, then this minimalistic mandala mehndi design is something you can surely consider.
12. Intricate bridal mehndi design 2019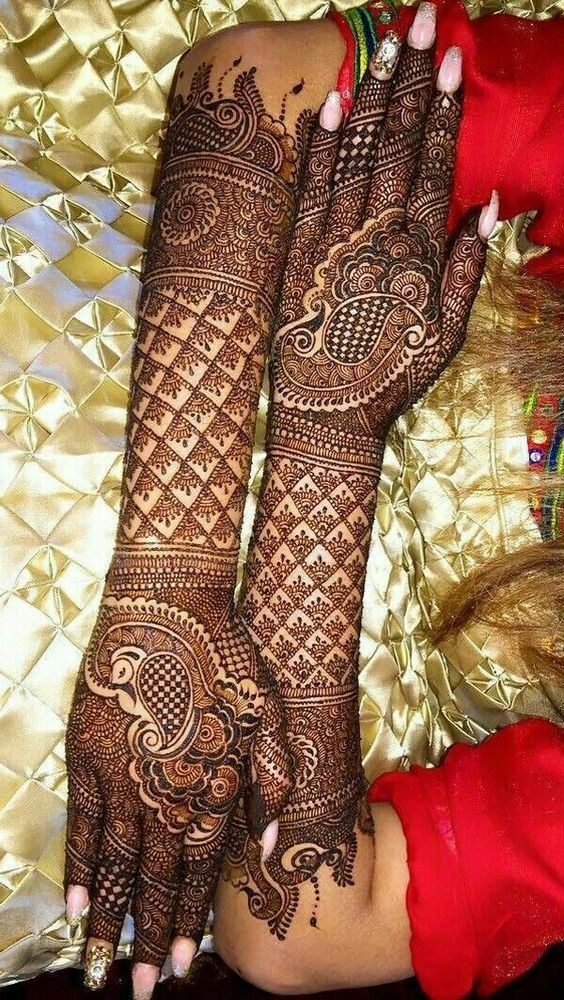 Let's admit how much we all love a beautifully intricate henna pattern. This new mehndi design in traditional bridal patterns is a total win if you love henna designs that are fine and immaculately drawn.
13. Floral lacy new mehndi design 2019
Want to go big and bold for your bestie's wedding? Take inspiration from this mehndi design 2019, which is eye-catchingly bold and looks heavily inspired by permanent tattoo designs.
14. Floral Arabic mehndi design 2019
There is no dearth of floral mehndi designs in the market. But to create something unique and equally stunning out of simple Arabic floral motifs is amazing. Take cues from this new mehndi design right here!
15. Back hand new mehndi design 2019
If you are searching for the perfect modern mehndi design to wear on any festive occasion in 2019, then this lovely backhand henna design with minimal patterns and neat curves is the way to go!
16. Bold lotus and peacock forearm mehndi design 2019
Lotuses and peacocks are as integral to Indian mehndi designs as paisleys and spirals. Pick either lotus or peacock and hero the motif on your forearm to create a latest mehndi design like this!
17. Traditional bridal mehndi design 2019
When you are too confused of what to pick for your big day, new mehndi designs with traditional motifs like these is always the best option to stick to!
18. Simple Arabic mehndi design for engagement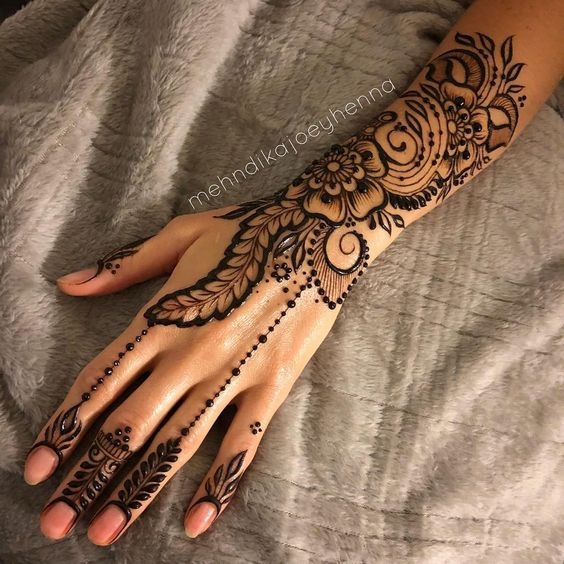 Simple mehndi designs are a favorite among most women; and for all the right reasons. This Arabic mehndi design 2019 oozes of simplicity but is stunning in equal measure. You can pick a new mehndi design like this for Eid or Karwa Chauth.
19. Modern glove style mehndi design for 2019 bridesmaids
Image Source: Leeds Mehndi
Glove style mehndi designs are huge in 2019. They look classy, dainty and modern at the same time. This mehndi design right here is perfect for a friend's engagement.
20. New mehndi design for bridal feet
All brides want something offbeat as their bridal leg mehndi design, isn't it? Well, this new feet mehndi design 2019 is all about making henna design look beautiful with using negative space to create artistic patterns.
Now that you saw some mehndi design 2019 inspiration, I hope you have some designs pinned and saved on your phone to show your mehndi artist for reference. And, yes, do let us know if you would like to see more mehndi design images in the comments below!  
Image Source: Pinterest