7 Classic Red Lehenga and Jewelry Combinations you can't go wrong with!
It's 2018 and red is no longer the ruling lehenga colour. But, if your heart is set on that stunning classic red lehenga, let no one tell you any other way. After all the heart wants what it wants right?
A dulhan in red lehenga is definitely a vision to behold. But keep in mind that your jewellery is going to play an important part to define your whole bridal look. It can totally make or break it!
So, if you are confused as to what jewellery to pair your red lehenga with, here are a few classic red lehenga and jewellery combinations that you can never go wrong with. Check it out:
1. Contrasting with green:
Image Source – Hitched and Clicked
Red lehenga and green is a classic combination, because of the contrast it brings to the whole look. You can opt to wear emeralds or green gemstones encrusted in a gold or diamond necklace and here's saying, both with look ah-mazing!
– With huge green stones:
Image Source – Badal Raja Company
Image Source –  The Wedding Story
– With a hint of green:
Image Source –  Clicks Unlimited Photography
– With green stones and pearls with gold jewellry:
Image Source – Allied Photography
– Encrusted in diamonds:
Image Source – Gautam Khullar Photography
2. Diamonds to the rescue:
Image Source – Linda Lauva
Diamonds are a girl's best friend and it holds true for red lehengas too. Totally loving how this bride had paired a stunning diamond choker and maang tikka with her red lehenga which totally compliments the embroidery of the lehenga! *stunner alert*
– with a contrast:
Image Source – Morvi Images
Or you can also, wear diamonds that do not match the embroidery of your lehenga, but instead brings out a contrast on the red color and looks beautiful!
– Diamonds encrusted in gold:
Image Source – Recall Pictures
If you red lehenga has golden embroidery in it, then diamonds encrusted in gold is one way to go! This will make the jewellery blend in the whole look, and you can be rest assured, that all eyes are just on you!
3. All gold :
Image Source – Rajesh Digital
Nothing beats the look of an all-gold jewellry paired with a red lehenga and this temple jewelry is proof!
4. Playing with colours:
Image Source – Wedding Cinemas
Totally in love with how this bride has styled her all-gold jewellery. She has paired pink gemstones in her matha patti with a hint of green in all her necklaces while gold dominates her entire bridal jewellry. Stunning right?  
5. Gold and pearls:
Image Source – Reels and Frames
Sonam Kapoor – the fashionista bride stunned everyone when she chose to wear a traditional red lehenga for her wedding. Although, what was more stunning is the way she styled her jewelry with her lehenga.
She chose to wear an all-gold choker and paired with a heavy necklace and a headgear with pearl detailing. For brides who don't wanna go for the all-gold look, this definitely is the way to go.
6. Mix and match: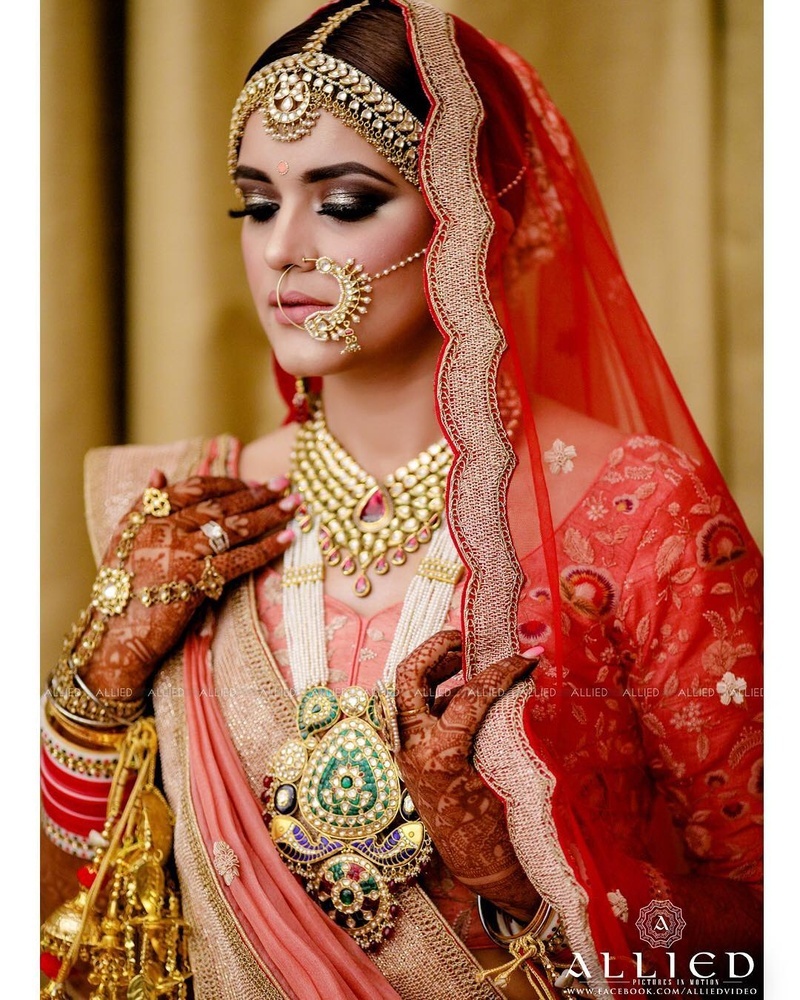 Image Source – Allied
If you can't decide between gold, pearls or other colours in your jewellry, I say mix-em-up. Take cues from this bride and you have got all the pointers on how to do it right!
7. With a hint of turquoise:
Image Source  – Knot Just Pictures
Seems odd doesn't it? But sure does look stunning. If you are a bride who has always done things a bit hatke, this red lehenga and jewelry combination will definitely be your choice.
So, what jewelry are you pairing your red lehenga with?