8 Jhoomers and Paasas which are major inspiration for brides-to-be!
We are in love with jhoomers and paasas and find brides who flaunt this piece of jewellery, absolutely stunning and gorgeous!!
This ethnic piece of jewellery undoubtedly adds the extra ethnicity and edge to a bride's overall look. From simple to massive ones, from dainty to chunky and from monotones to vibrant and peppy ones, every bride-to-be should choose a jhoomer that goes well with her lehenga. Keep it simple and match it with your outfit or choose one which is a complete contrast to your look!
Here are some pretty and ethnic jhoomer designs that we could not miss:
1. Slaying it!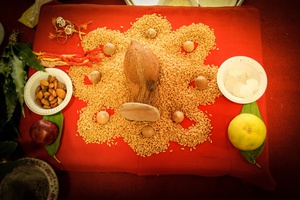 Image source: Pinterest
We love this mughal inspired jhoomer and it is certainly major goals for all those brides who are searching for a perfect one.
2. Chunky and traditional
This elegant, chunky and simple jhoomer won us over because of its traditional touch.
3. Ravishing royalty!
We are swooned by this colourful and royal looking jhoomer which is a perfect match with the bride's lehenga!
4. Dainty and intricate
Image source: Gautam Khullar photography
If you are searching for a big but dainty jhoomer then this should definitely be on your wishlist.
5. Dazzling in pearls
Image source: Pinterest
It is the pearls that are adding the edge and making this jhoomer actually stand out, adding the oomph to the bride's entire look.
6. Big and basic
Image source: Morvii images
This jhoomer design is nothing short of a head turner! It is traditional yet contemporary in its own way and is definitely one of our favs.
7. The over-sized one
Image source: Pinterest
This big gold jhoomer with pearls is super eye-catchy and dazzling. It compliments the lehenga so beautifully.
8. Peacock combo
Image source: Pinterest
Love it! Love it! Love it!
We simply looooooove this aqua blue and green beaded jhoomer. It is uncommon, matches perfectly with the jewellery and is so graceful!
It must be confusing, but which jhoomer design is your favourite pick?