30 Banarasi Lehenga Images which will make you opt for one this wedding season!
The beauty of a Banarasi lehenga is truly unmatched! The opulent silk fabric is intricately embroidered with gold and silver threads to give it a royal look. If you are keen on wearing a bridal lehenga that's not too heavy but still looks regal, then a Banarasi silk lehenga is your go-to choice!
Scroll down to see 30 latest Banarasi lehenga images, which you can save as an inspiration for your bridal trousseau.
1. All Red Banarasi lehenga with gold embroidery
Red and gold is a classic combo for a wedding saree or lehenga. Loving how this bride has carried off an all red Banarasi lehenga with such grace!
2. Orange Banarasi lehenga with cold shoulder choli
Bridesmaids, if you are looking for Banarasi lehenga images that have a contemporary touch to them, then you must save this pic immediately for major inspiration while shopping.
3. Light pink Banarasi lehenga choli with net dupatta
Image Source: Seventy by Two
This light pink Banarasi lehenga is a simple yet graceful option to wear for a daytime mehndi ceremony. Pairing this with floral jewellery will take your mehndi look to another level.
4. Orange and red Banarasi lehenga colour combination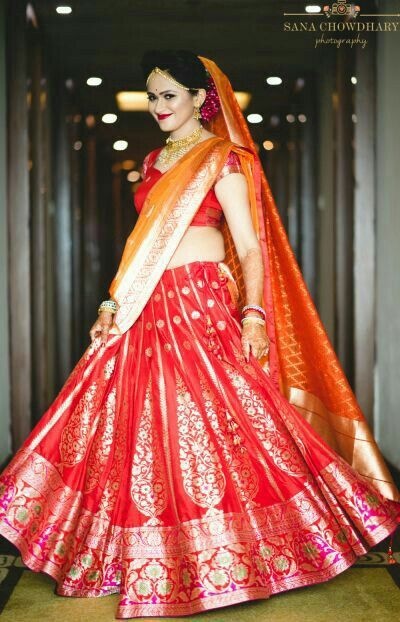 Image Source: Sana Chowdhary
Red and orange is a classic wedding lehenga colour combination! Opt to wear something like this for your main wedding ceremony. Banarasi lehengas are lightweight; so you can be assured that you'll be comfy throughout the ceremony.
5. Royal blue Banarasi lehenga with pink choli and red dupatta
This simple Banarasi lehenga choli is a great choice for bridesmaids or even the bride to wear for one of her pre-wedding functions.
6. Red Banarasi lehenga with zardosi embroidered velvet choli
The possibilities of wearing a Banarasi lehenga on your wedding day are limitless. Pair it with a heavy-embroidered velvet choli and net dupatta to create a hatke look!
7. Red Banarasi lehenga with zardosi border and net dupatta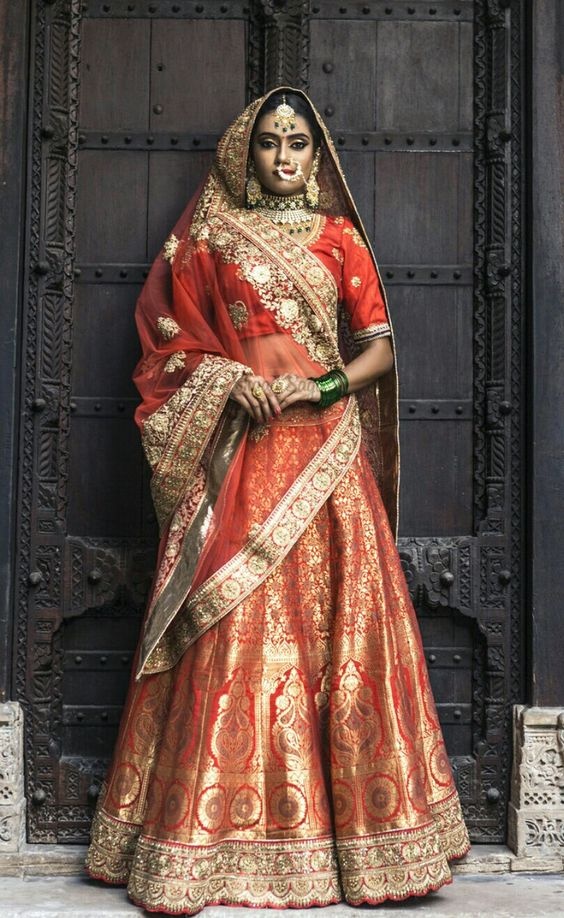 Image Source: Cine Weddings
Look straight out of royalty with a Banarasi lehenga design like this one! Doesn't this bride look every bit of a goddess rocking a red and gold Banarasi lehenga with a zardosi hem and net dupatta?
8. Gold and pink Banarasi silk lehenga
Give your Banarasi lehenga a modern twist by pairing it with a bralette or a backless choli in a contrasting colour and wear it for your mehndi or haldi!
9. Extravagant Banarasi lehenga design with intricate zari work
Banarasi silk as a fabric looks royal. So, you don't really have to add much effort to make it look extravagant. Just make sure to have a huge flare and add some can-can inside for volume and you're all set to rock a gorgeous Banarasi bridal lehenga!
10. Royal red Banarasi lehenga with sequined choli and jacket
Experimentation is the key to great fashion! Totally in awe of this bride who paired her red Banarasi lehenga with a sequined choli and peplum style jacket!
11. Emerald green Banarasi lehenga with solid choli
Apart from red, green is that one colour, which looks royal and festive at once! Love how this bride has paired her green Banarasi lehenga with a solid green choli while accessorizing with heavy neckpieces!
12. Pink Banarasi lehenga with orange choli
Image Source: Bageecha Banaras
If you prefer pastel and light colour over reds and blues, then this peachy pink Banarasi lehenga paired with a yellow choli is perfect to wear at a daytime pre-wedding event. (Preferably haldi) 😉
13. Champagne-coloured Banarasi lehenga with off-shoulder choli
You thought wearing a Banarasi lehenga for a reception or cocktail party would be too traditional? Well, looking at this banarasi wedding lehenga, you would change your mind for sure! The classy champagne colour of the lehenga paired with a ruffled one-sided, off-shoulder choli is what bridal lehenga dreams are made of!
14. Multicolour Banarasi silk lehenga with ivory choli
Image Source: Gautam Khullar Photography
Here's a real bride giving major #mehndioutfit goals with her multi-colour Banarasi wedding lehenga, which she has paired with a beautiful ivory choli and net dupatta!
15. Red Banarasi wedding lehenga with a broad zardosi and gota hem
Image Source: Ayush Kejriwal
This lehenga by Ayush Kejriwal is all the inspiration you need if you're planning to wear a Banarasi lehenga on your big day. The zardosi and gota hem paired with an embroidered dupatta is giving out regal vibes!
16. Banarasi bridal lehenga with brocade choli
Red will forever be a classic when it comes to Banarasi wedding lehengas! This gold and red Banarasi lehenga is no exception to that. Love how the bride chose to break the monotony of the lehenga pattern with a brocade gold butti blouse!
17. Yellow Banarasi lehenga with a bright pink dupatta
Outfit by: Shravan Kumar
This Banarasi bridal lehenga is perfect to add a hint of sunshine to your pre-wedding ceremonies. Opt to wear something like this during haldi and you're good to go for the mad riot of haldi that will be thrown around at the event!
18.Banarasi lehenga design in royal blue and gold
Outfit by: Shravan Kumar
This royal blue Banarasi lehenga is a fine example of why bridal lehengas don't have to be heavy in weight to look festive and bridal. The gold and pink thread work on the blue lehenga is perfect to add a pop of colour to your wedding festivities!
19. Orange Banarasi lehenga with foliage green choli
An orange lehenga with deep green choli like this one is something bridesmaids can definitely have on the top of their 'to wear for wedding' list.
20. Janhvi and Khushi Kapoor giving major bridesmaids goals in Banarasi wedding lehengas
Bollywood's newest sister duo is giving major bridesmaids outfits goals in these opulent Banarasi lehengas! Don't you girls agree?
21. Fuchsia pink Banarasi lehenga design with green maggam blouse
Outfit by: Sindhu Reddy
North meets south with this beautiful Banarasi lehenga design, which this bride chose to pair with a contrasting maggam work blouse and pulling it off like a total boss!
22. Maroon Banarasi bridal lehenga with a jacket
This beautiful bride in her maroon Banarasi lehenga paired with a sheer jacket is absolute #mehndiwear goals!
23. Dark green Banarasi lehenga with solid yellow choli
Image Source: Bageecha Banaras
This green Banarasi wedding lehenga paired with a solid yellow choli is such a gorgeous choice to wear for your daytime mehndi function. Gota jewellery will only take this lehenga to another level.
24. Dark blue Banarasi silk lehenga with pink choli and orange dupatta
Image Source: Bageecha Banaras
A lightweight Banarasi lehenga like this one is the ideal choice for bridesmaids to wear for a pre-wedding function like haldi or mehndi. Tip: Accessorize it with chunky oxidised jewellery and beautiful juttis to complete your OOTD!
25. Red Banarasi lehenga choli that's fit for the wedding day
Image Source: Karan Sidhu Photography
Nothing makes a bridal lehenga look more opulent than the perfect shade of red combined with gold. This beautiful Banarasi lehenga is a testament to that!
26. Multicolour Banarasi bridal lehenga
If you can't decide on one colour for your Banarasi bridal lehenga, then a multicolour lehenga like this one is a good choice to opt. Check out more multicolour lehenga designs here!
27. Pink Banarasi lehenga with gold butti and orange dupatta
If you don't wish to wear a heavy embroidered Banarasi lehenga, then you can pick something with gold buttis and minimal embroidery for a clean and chic look!
28. Pink Banarasi lehenga with navy blue choli
This Banarasi wedding lehenga is something that no-fuss brides will totally love! The intricacy of the bright pink lehenga is offset with the navy blue choli making it look chic and modern! Tip: Pair with kundan jewellery to complete the look.
29. Black Banarasi wedding lehenga with brown choli
Not a fan of bright colours? Black is always something to fall back upon. Doesn't this black Banarasi lehenga with gold embroidery and brown choli look like a total stunner to wear for your cocktail party?
30. Banarasi silk floor-length Anarkali gown
Last, but not the least, if you are not a fan of Banarasi lehengas, here's a beautiful floor-length Anarkali gown made with Banarasi silk that you can wear for one of your pre-wedding functions!
How many of these Banarasi lehenga images did you save to your bridal board?