One of the most cherished days of your life deserves one of the finest settings! What better than the boundless beauty of a beach? There is something so special and so surreal about getting married on a beach. Perhaps the poetic endlessness of the sea is a symbolic reminder to the nuptial couple to love each other without measures and bounds. There may be storms too, but swimming in the profound company of the beloved can sail them through. Thus, a wedding by the beach is surely about breathtaking beauty but more so about meaning, moments and memories.
We've put together this generous list comprising beach wedding mandap/stage decor, wedding table and the altruistic aisle. Accommodating a range of classic, unique and quirky beach wedding decor ideas, this mixed bag is all yours. And while we cater to the 'Big Fat Wedding' enthusiasts, we've consciously made an effort to present comparatively sustainable options. As one of the top wedding trends for 2020, sustainability is here to stay! It becomes doubly imperative while planning an outdoor wedding like a beach wedding. And so, you have the best of both worlds here.
And finally, as you're coping with the pressures of this pandemic and dealing with an excruciating lockdown, we've got the lock, stock and barrel of beach wedding decor ideas to. Now's the time to stop sulking and start planning/replanning that impending, postponed or fantastical beach wedding of yours. And if you can't go to the beach, we'll bring the beach (with the wedding of course!) to you. Cheer up, sit back and take a dip in this sea of ideas:
#The Wedding Mandap/Stage
1. Enter the World of this Eclectic Euphoria!
Image Source Weddingnama
Opt for this startling stunner that blooms with exotic flowers, pastel shades and flawless ferns. This certainly makes for a picturesque frame and acts as the perfect background to your timeless pictures!
2. Drapes, Flowers and Blessing Showers!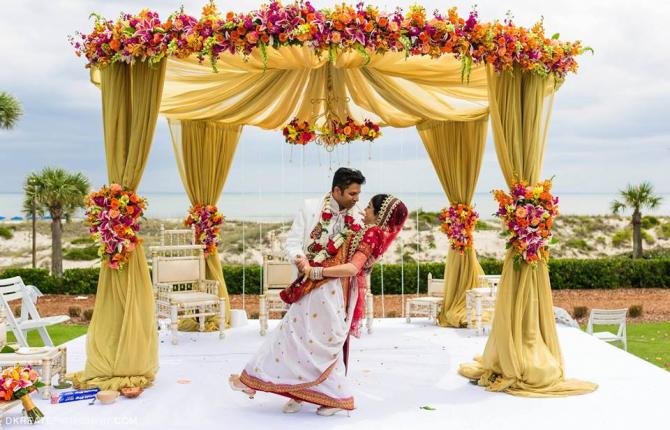 Image Source Bollywoodshaadis.com
Seamlessly blending into the beauty around, this drape and flower chemistry is a sure-shot hit!
3. Opposites Attract. So do Contrasts!
Image Source South Asian Bride Magazine
This pleasant contrast and setting are like a breath of fresh air and sure to give OTT decor a run for its money!
4. Frames of Timelessness!
Image Source Glaminati.com
A perfect blend of beauty, subtlety and elegance, you can bank on these wooden frames adorned with exquisite flowers.
5. Lovers and Leaves Unite!
Image Source Sean Cook Weddings
If you're the couple who loves to embrace experimentation, you can ditch the flowers and bloom in the glory of these generous palm leaves!
6. Circle of Splendour
Image Source Wheel And Photography
Bid goodbye to that extravagant stage and settle in for this sweet token that is embellished in fresh flowers and lush leaves.
7. True-love in a Triangle!
Image Source Lauren Fair Photography
This charming rustic affair has a special place in our hearts for sure 🙂
#The Wedding Table
1. Absolutely in Love with this Frame!
Image Source Wedding Style
Wood amidst sand makes for a vintage statement and to add to it the pristine drapes, stunning flowers and charming lights have us awestruck!
2. Vibrant Vows!
Image Source Studio Beunique. Decor Aash Studio
Nail it with this colour combination, crafted crockery and those little heartwarming details. Perfect beach wedding vibes we say!
3. Perfect Pastel Portrait!
Image Source It Girl Weddings
If you're the timeless old-soul who loves all things classic and vintage, this resplendent setting is your best bet.
4. Super Starry Affair!
Image Source Wedding Trending Ideas
Perfect lights set perfect moods. Delve into this the gorgeous light nest and have a memorable time!
5. A Tropical-Boho Bash!
Image Source Bride and Breakfast
Can't stop staring at this breathtaking table spread. The barrel-light is such a cool highlight!
#The Wedding Aisle
1. Picture-Perfect Pathway
Image Source Weddingchicks.com
Lights in the air, lights on the floor, the wooden pathway spread for the bride to soar.
2. Walking in the Garden of Love!
Image Source Wedding Forward
This amazing aisle of manicured leaves and flowers is a visual delight!
3. A Floral Welcome
Image Source Bling Mushrooms
This lovely aisle bordered with pastel ferns makes for a regal beauty!
4. Walking to the Sunset
Image Source Studio Beunique . Decor Aash Studio
This smooth and stunning aisle lets the beauty of nature do all the talking. Minimal yet mesmerizing, this is perfect for an early evening wedding amidst the background of the setting sun.
5. Carpet of Petal and Glory
Image Source Eazy Glam
This one settles in with the no-frills decor and is a real treat to the eyes!
We truly hope there was a treasure in store for you here. So the next time you plan to get married on a beach, ensure this piece is well within your reach! Swoon for sure but bookmark it now!