Best wedding reception halls in Alleppey to Plan Out Your Most Significant Day
What can we tell about the beauty of rustic backwaters of Kerala and the houseboats of Alleppy floating on the shimmering blue waters of the Laccadive Sea? The south of India is indeed mesmerizing. Alleppey's Backwaters can be referred to as a mirage of what paradise might look like on a peaceful day. Planning your wedding here in Alleppey is nothing short of a fairytale. Furthermore, every wedding is followed by a grand reception ceremony. This charming tourist destination is not only the hub for thousands of boathouses but also has gorgeous banquet halls to flaunt. As usual, we are here with handpicked best wedding reception halls in Alleppey. Check them out and plan for the most significant day of your life.
Located very close to Punnamada Lake, Ramada by Wyndham Alleppey is soaked in luxury. This banquet hall in Alleppey has multiple halls with stylish interiors, making your wedding look astonishing. Intimate or grand, the team of professionals caters to all your needs. Alleppey is heavenly, and your events at this venue will be on par with the breathtaking beauty of this city. Great food, chic decor, warm hospitality, top-class services – you name it, and they serve it all to you – making your experience here one of the best. Book this venue and have a blissful wedding reception ceremony. 
Key Features:
Well-known for the warm hospitality
Prominently located venue 
Skillful and helpful staff
Ramada, Alleppey, Alleppey
Address: Ramada, Nehru Trophy Boat Race Finishing Point Stadium, Finishing Point Road, Punnamada, Finishing Point, Alappuzha, Kerala 688013
Landmark: Kayal Kurishady Church
Overlooking the waters of Vembanad Lake, Lake Palace Resort is indeed very beautiful. Any event hosted here will surely be gorgeous. What could be more enchanting than a perfect wedding backdrop with the verdant Alleppey on one side and pristine waters on the other? They also have an exclusive collection of Kettuvallams (houseboats), where you can capture your story of everlasting love with a pre-wedding shoot or just wedding photography. This wedding venue in Alleppey should be on your bucket list for sure. 
Key Features:
Serves an exquisite range of flavorsome delicacies
Unbounded hospitality and leading-edge facilities
Spread across 14 acres of land
Lake Palace Resort, Alleppey, Alleppey
Address: Lake Palace Resort, Thirumala Ward, Chungam, Alappuzha, Kerala 688011
Landmark: St. Mary's Church
Celebrated as one of the best wedding halls in Alleppey to accommodate a large-sized gathering is Bhuvi Convention Centre. It has an occupancy of around 1800 guests. The hall has a rustic vibe and the ambiance here is very inviting. You can hire your decor team to deck up the banquet as per your dream wedding. You can get your favorite panel of chefs on board to serve the delicacies you want on your buffet menu. So, if you are looking for a large party space for your lavish destination wedding and reception celebration, then go ahead and book this venue right away. 
Key Features:
Open decor and catering permissible
Ample parking with valet facility 
Ideal for a large scale wedding
Bhuvi Convention Centre, Alleppey, Alleppey
Address: Bhuvi Convention Centre Nangiarkulangara P. O, Besides NH-47, Between Haripad & Kayamkulam, Alappuzha District, Kerala – 690513
Landmark: NTPC Ground
To celebrate your phenomenal events complemented by modern amenities and personalized services, we have the right venue on our list. Camelot Convention Centre is one such beautiful marriage hall in Alleppey. The capacity of this hall is around 3000 guests. You can also host an intimate and small scale wedding at the smallest banquet hall at this venue. This place is a perfect blend of the finest elements of comfort, convenience, and class. Book Camelot Convention Centre, Alleppey, to celebrate the most memorable day of your life.
Key Features:
Ideal for pre and post-wedding functions
Fully air-conditioned convention center
Multiple venue options for celebration
Camelot Convention Centre, Alleppey, Alleppey
Address: Camelot Convention Centre, NH 47, Pathirapally, Alleppey (Alappuzha) – 688521, Kerala, India
Landmark: St. Dymphna's Chapel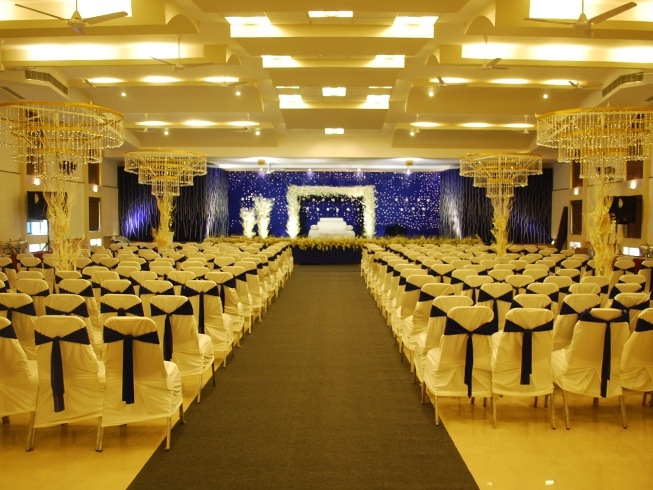 One of the premium wedding hotels in Alleppey, Alleppey Prince Hotel offers enchanting event spaces with all the services rendered in-house. This wedding place in Alleppey features a new dimension in luxury and hospitality. Along with the decor and food services, they also serve premium alcohol at the venue itself. You can rely on the decor team for a theme-based reception party. So, if you are looking for a venue that provides skillful assistance along with a beautiful event space, then book this venue and have the time of your life.
Key Features:
18000 sq ft of air-conditioned indoor space
Complimentary changing rooms available
Conveniently located wedding venue
Alleppey Prince Hotel, Alleppey, Alleppey
Address: Alleppey Prince Hotel, A.S Road, N.H.47, Near Kalappura Junction, Alappuzha, Kerala 688007
Landmark: Kalapura Temple
This was our take on the best wedding reception halls in Alleppey to plan out the most significant day of your life. We really hope that you might have selected one out of the gorgeous venues listed above. However, if you haven't, then you can keep browsing for more venues in Alleppey to host a grand celebration.