Bridal Jewellery Trends We Love – Tassel Earrings!
Fashion trends are ever changing, always evolving and bridal jewellery trends? Even more! While we completely despise some, the others seem to make us swoon in ways we haven't before – and Tassel earrings is one of them. A style that speaks of the contemporary modern bride. This newest bridal jewellery trend has all positives for our future brides-to-be! Being mostly made out of cloth, colorful beads or pearls, they prove to be super comfy and versatile enough to wear to at a sangeet, cocktail or even your reception! Give your bridal jewellery a twist with this new trend. We've all exhausted those chaandballis and jhumkas over the years – this time, keep it dangle-y and pretty with these beaded/cloth/pearl beauties which will surely take your whole bridal ensemble to a whole new level.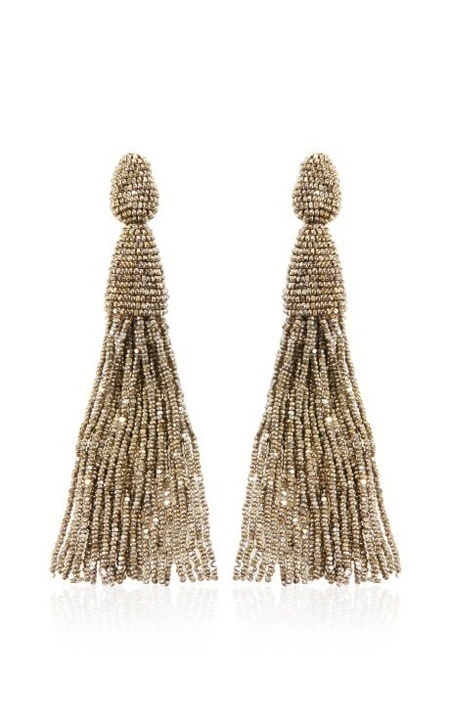 Bronze beaded dangling earrings – pair it with navy blues or deep maroons for that chic-royal look!
Emerald stones with white pearls – Picture perfect white pearls with green stones for that Mughal-E-Azam themed sangeet.
Chaandballi Danglers – Pair up two of your favourite trends, the chaandballi as well as the tassle danglers like this one!
Origami style tiled earrings  with orange tassel jhumkas. Don't miss the intricate blue enamelling!
Classic combination of navy blue and gold in this engraved gold and navy blue cloth tassel earring
White ganthan  pearls on a polka studded earring
All cloth black tassels for an elegant evening look
Cobalt blue beads dangling from a twirly, interlinked diamond top
Ruby red beads paired to perfection with gold and diamond tops
Our female muse Sonam perfectly pairing those dangling tassels with a gorg Sabyasachi lehenga
Aditi Rao Hydari rocking those tassels with nude, earthy tones
Kajol pulling off those gold metal tassels flawlessly!
Coral tassels with a combination of teal, gold and white crystals
Elegance exuding pearl and diamond dangling earrings
Colorful cloth tassels – light, stylish and oh-so-pretty!
Brown, bronze and gold bead tassels for a contemporary look
Classis black, gold and crystal tassels
Gold metal tassels with earring tops adorned with colourful stones
white and black pearl beads with sparkling crystals
White stone tops with crystals accentuated with dangling gold chains
Makeshift gold cloth jhumkas
Navy blue and gold dangling chains on a rectangular gold top
Classic white pearls with crystal studded gold tops
Gold Metallics can do you no wrong!
Baguette cut ice blue and navy crystals with dangling gold strands
Crystal studded floral tops with gold beads and black cloth strands
Intertwined rouge earrings