Have Millennials Become Value-Conscious When it Comes to Weddings?
The term 'Indian wedding' instantly transports us to a world filled with grandeur, luxury, over-the-top outfits, extravagant decor, several cuisines, a host of functions and of course, a long, unrestricted guestlist.
However, over time this trend seems to have taken a backseat. Although millennials are undoubtedly spending a fortune on their weddings, they are very conscious about the outcome. In other words, they are spending more wisely and on the things that personally matter to them the most. Guestlists are shortening, wedding elements are becoming more customised and personalised, and the look of a quintessential 'Big Fat Indian Wedding' is gradually transforming into something more compact, specific and couple-friendly.
Here are a few latest trends which caught my attention when it comes to what millennials are opting for:
1.Personalisations
Customised paper napkins with the bride and groom's names and cartoons printed on them.
How about this simple yet cute wedding favour for your guests?
Nusrat Jahan and Nikhil Jain had gorgeous hand embroidered personalised invites for their wedding.
Image source: Pink Whistle Man
What's better than getting your mehendi design inspired by your favourite show?
Image source: Fotowalle
Hashtags have become quite a rage these days, and they are becoming more quirky and creative by the second. 
Image source: ShutterDown
2. Interactive Games
Indian couples and their families are making sure they leave no stone unturned when it comes to engaging their guests in the most entertaining indoor and outdoor games.
How about a game of beer pong! It involves a whole lot of fun and of course, you could get a bit tipsy too :-P.
Image source: The Lightsmiths
Want to stick to a simpler outdoor game for your guests? Set up a dartboard, ensuring guests of all ages have their share of fun. 
Spin the wheel, accept the given task and have a gala time while playing this super-interesting game.
3. VR Wedding Invite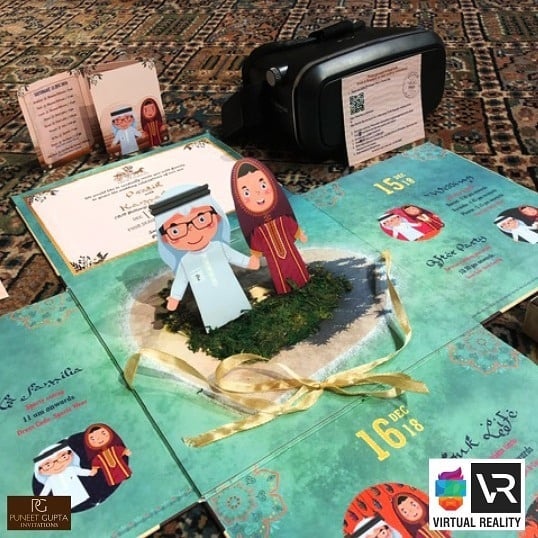 Images source: Puneet Gupta Invitations
This super-cool wedding invite was made for a couple who had their destination wedding in Bahrain. A first of its kind Virtual Reality wedding invite in India got a lot of attention from people. The guests could see the entire wedding video using the VR glasses, certainly a notch above the printed cards, e-invites or Whatsapp videos.
4. Pre-wedding shoot
Image source: House On The Clouds
Image source: Naman Verma Photography
Pre-wedding shoots are becoming more cool and candid. The to-be-bride and to-be-groom are seen expressing themselves, having fun and showing their real self during these shoots, as opposed to the quintessential ones in which the aim was to strike the perfect pose.
There is nothing like an 'ideal' location anymore. While some millennials are having their shoot on a hot air balloon ride in Cappadocia, some are having a simple one in their backyard.
So, when you sit down to sort out your wedding planning and budgeting, take a cue from these 'millennial' trends and make your wedding affair more interesting!