High-End Marriage Venues for a Destination Wedding in Karjat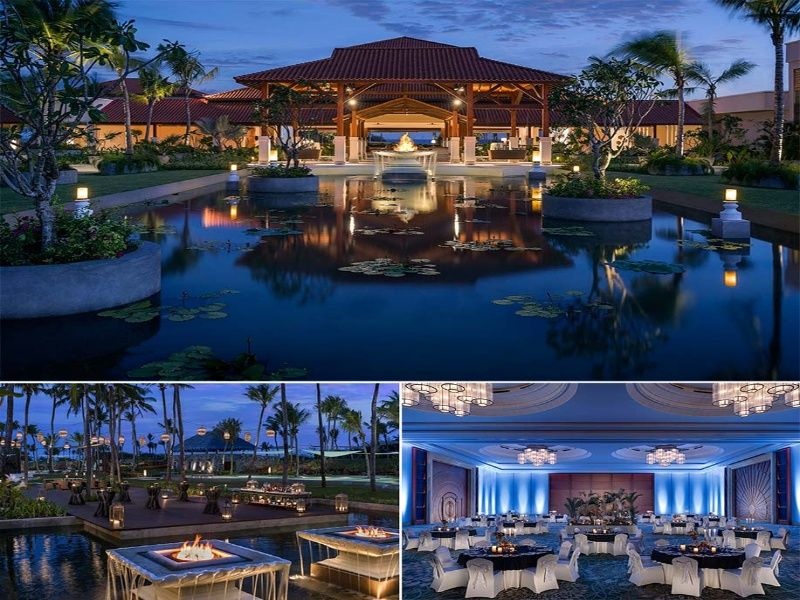 A place that can offer you a magical setting for a dreamy wedding ceremony is nowhere but Karjat. A destination wedding in Karjat will leave you spellbound with its beauty. Planning a wedding with loads of craziness, laughter & love and to the never-ending celebration, it is all possible here at Karjat. It has hotels and resorts with exceptional spaces and charming setups perfect for dreamy destination weddings. So, if you are ready to spend a lifetime of happy smiles with your significant other, then dive-in and have a look at our list of the high-end marriage venues to plan out an offbeat destination wedding in Karjat. Let us go.
The Ridge Resort, Neral, Karjat
The Ridge Resort is nestled beautifully in the outskirts of Sahyadri Range, which makes this venue even more gorgeous. This wedding lawn in Karjat has well-manicured lawns overlooking a river and well-designed banquet halls. This quaint venue provides you an ideal setting for a whimsical marriage ceremony. Imagine tying the knot with your beloved amidst lush greenery and a river flowing on one side. It is indeed magical. Along with this visual perks, this venue also takes care of your requirements and offer all the services in-house. So, to host a lavish wedding day, get your booking done right away.
Where: The Ridge Resort, Near Primary Health Centre, On Karjat Murbad Highway, Village Kalamb, P.O. Neral, Taluka Karjat. Pincode – 410101
Discover Resorts, Neral, Karjat
Discover Resorts, a 3-star wedding resort in Karjat, is known for its beauty and extravagance. Snuggled right in the foothills of the Sahyadri Mountains, you can take advantage of it and use it as the perfect backdrop for your wedding pictures. Along with your wedding day, this popular venue in Karjat provides services for all your wedding-related festivities, and you can also plan for your reception here. This wedding venue has a large lawn for around 900 guests, and it also boasts of a banquet hall. The venue has a gorgeous poolside area for your pre-wedding cocktail bash. This is one of the best wedding venues in Karjat and you shouldn't miss it.
Where: Damothe Village, Neral- Kalamb Road, Raigad Dist, Karjat Taluka, Neral., Raigad, Maharashtra 410101
Seven Star Holiday Resort, Karjat, Karjat
A little away from Karjat is a piece of heaven on earth and one of the most elegant wedding venues near Karjat – Seven Star Holiday Resort. Spread over 2 acres of lush green land, you can experience a peaceful and calm environment during your celebrations. When we talk about events areas, then this venue has a lot of options available to pick from. It features well-appointed banquet halls and party lawns for your wedding festivities. This wedding resort in Karjat is famous for hosting grand events and is sure to make your day successful. It offers in-house decor and food services, so if you book this venue, then all you are left with is to enjoy your day. If this location fits in your list, then book it right away.
Where: Seven Star Holiday Resort, Survey No 52 / 7, Karjat To Neral Road, Near Bhivpuri Railway Station, Tal. Karjat, Dist. Raigad, Asal, Maharashtra 410201
The Royal Elm, Karjat, Karjat
An ideal wedding venue in Karjat, where you can host royal wedding ceremonies, then the name that fits perfectly for such a wedding is The Royal Elm. It offers you the wedding decor that includes a grand entrance and a magnificent mandap. It decks up the pathways beautifully with flowers, fairy lights, and colorful drapes. The lawns at this farmhouse in Karjat have a lake by its side, and we will leave the beauty of your wedding at your imagination. If you plan your wedding here, you are sure to look like a royal couple walking down the aisle. If this gets you excited, then you should get your bookings done here.
Where: Vavarle Village, Oleander Farms Pvt Ltd, Chowk Karjat Road, Taluka Khalapur, 410206 Karjat, India
Radisson Blu Resort & Spa, Karjat, Karjat
Radisson Blu Resort & Spa is not a new name in the hospitality industry, and hence, it made its way on our list. It is a luxurious 5-star wedding hotel in Karjat that offers a stunning view of the beautiful Sahyadri Mountains and the Ulhas River. Choosing this venue comes with its perks such as the best in industry services, great hospitality, and of course, grand event areas. This wedding destination in Karjat boasts of a large lawn for around 1500 guests, and it also has a banquet hall that can hold up to 750 guests. So, if you have a long guest list, then this is an ideal location where you can plan your big fat Indian wedding. So, if this exactly what you were looking for, then go for it.
Where: Khandpe, District Raigad, Karjat, Maharashtra 410201
So, if you are on the hunt for top-class venues to host a destination wedding in Karjat, then our list can be of great help to you. If you are looking for more such wedding venues and more services, then check out our exclusive website.
Weddingz.in brings hassle-free event planning and venue booking at your fingertips! Book with us and bag 'Guaranteed Best Prices' on all the wedding venues or event areas listed with us. If you have any queries about a venue or want to learn more about our services, visit our website: Weddingz.in or give us a call at +91- 76-66-77-88-99.