Kaiba Garewal, the co-founder of Outhouse Jewelry took her bride-squad on a royal proposal getaway and you've GOT to check out the pics!
Your friends who have been with you through your ups and downs, who have stood by you through your decisions (bad and good) and still not left your side, deserve a huge part of your 'happily ever' after. And when your man surprises you with a proposal of your dreams, your bridesmaids and bridesmen also deserve to be proposed for your upcoming wedding! Am I right, or am I right?
I came across one such bride – Kaiba Garewal, the co-founder of Outhouse Jewelry who did exactly the same. Remember the bride who had taken her #BrideSquad on a very stylish trip to Mykonos? Yes her, she quite recently took the same squad on a 2-day Royal Getaway – #RoyalsOfKabanng to propose them and ask them to be an integral part of the wedding! And believe me when I tell you, one will fall in love with what happened on the course of these 2 days. Scroll down and have a look:
The invites:
There were handwritten and personalized invites sent to all 'The Royals' enclosed in an envelope, with eclectic stamps inspired by The Royal Party. They were sent along with some really tasteful floral arrangement curated by, The Fiorella!
The Proposal:
She says, "They say friends are family we choose for ourselves and I'm thrilled you are mine ! Every bride needs her bridesmaids and Bridesmen so thank you being by my side". Check out her formal proposal here:
Fittings:
On the first day, Kaabia introduced her gang to Atsu – the designer who would be making the #TheKabanngWedding's outfits.
And it goes without saying her #BrideSquad was thrilled.
A blindfolded dinner:
Another element the Royal trip that awed me from Kaabia Garewal's bachelorette trip was the royal blindfolded dinner. Yes, you read that right.
The Royals sat across the beautifully adorned table with floral arrangements & candles, and constantly guessed about the meat until they confirmed after the meal that it was pork belly.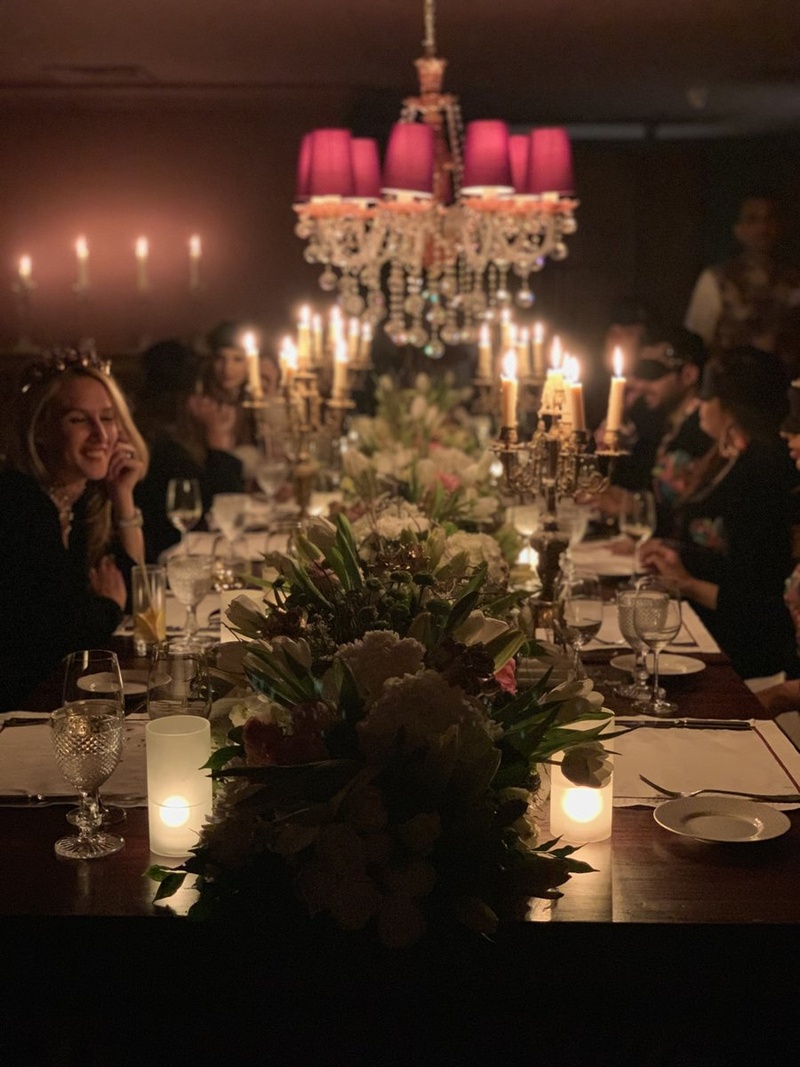 Dress code:
The Royal Robes and the striking jewels that Kaabia arranged for her entourage was something that really caught my attention. All of them wore emerald green velvet robes, hand embroidered with Kaabia's wedding logo.  
The Royal Safari:
Then came the best part of the trip. The #Kabanng gang drove to a nearby lake for a Safari picnic all dressed in green-hued outfits and cowboy hats, while enjoying the Darbari experience, a breathtaking sunset that changed into a magical starry night asn the conversations overflowed!
Well well, with a bachelorette and a proposal like this, I can just wonder what the wedding will be like!