This Perfectly Coordinated Mykonos Bachelorette Bash will give you major Bridesmaid Goals!
With serene sandy beaches, whitewashed villages and a vibrant, cosmopolitan party scene, Mykonos add a touch of glamour to the European holiday. So, it comes as no surprise that Mykonos – one of the most sought after party destinations and popularly known as the Greece's designer island was Kaabia Grewal – Co-Founder, Outhouse Jewellery's pick for her bachelorette party!
This one was one coordinated bachelorette bash with her entire squad's looks put together by ace designer duo Shivan & Narresh. Gear up to see the pictures of this one mad bash that reeks of  class, style and high-end fashion from all sides:
Kaiba says, "The Big Outhouse Bachelorette on the glamour island of Mykonos in Greece was a bejewelled and sartorial party parade."
The I DO crew:
This 6-day vacay was planned keeping the whole vibe of Mykonos vibe in mind for the bride-tribe who called themselves the "I Do (s) Crew". The power squad comprised of Kaabia and Sasha Grewal (founders of Outhouse), Shivan Bhatiya and Narresh Kukreja (the designer duo of Shivan & Narresh), Sunaina Kwatra (Country Head, Louis Vuitton – India), Siddhartth Mahajan (Brand Manager, SHIVAN & NARRESH), Savleen Manchanda (celebrated makeup artist) among others.
The party getting started:
The crew on arrival was gifted a party Starter Kit designer by Outhouse jewellery. It comprised of the celebratory accessories to go with the looks for each day and a quirky hand-embroidered duffel bag – among other bachelorette goodies.
Along with this, the excited bride-to-be also gifted her friends a customized Shivan & Narresh Bachelorette Totes with custom swimwear and resort wear that was designed keeping myriad destinations and moods in mind.
The theme:
Over a span of 6 luxurious days, the crew was spotted in a series of Shivan & Narresh ensembles with different themes each day.
Day 1: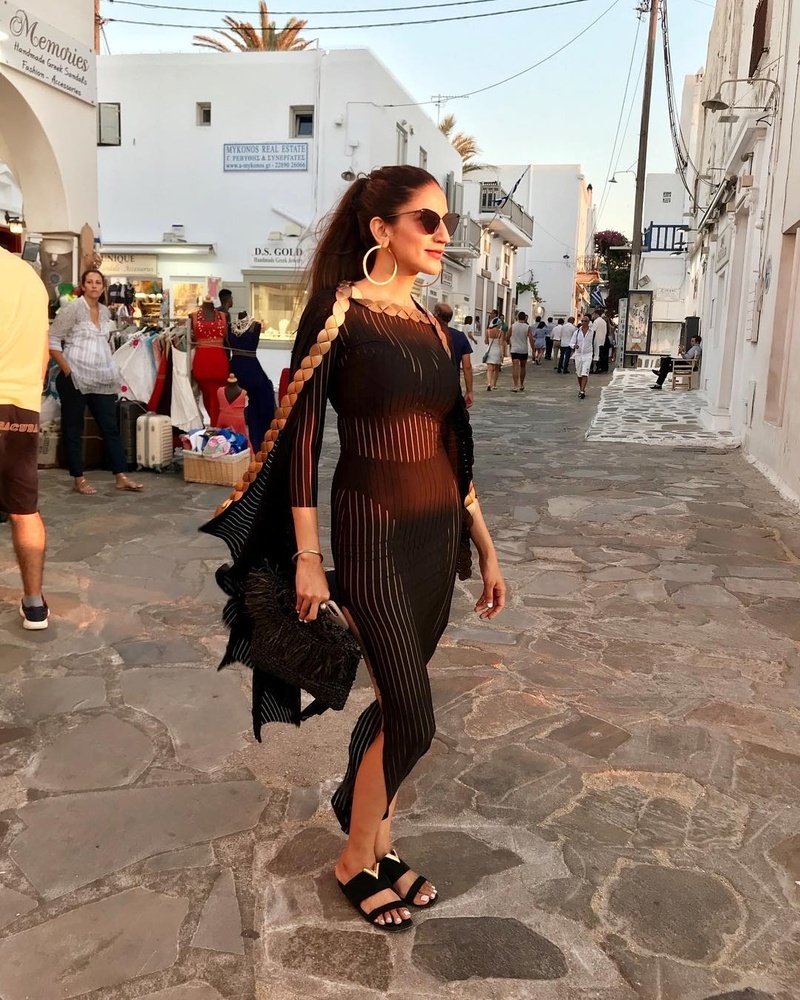 The first day kicked off in sensual Black & Nude shades which marked the packed season of holidaymakers at Mykonos.
Day 2:
The whole crew was spotted in a Palmera print which symbolized a holiday state of mind. The lush print was worn on the second day also complemented the architectural Ivory beauty of Mykonos.
Day 3 – La Digue:
The exuberant La Digue print was worn on the third day which reflected the Sapphire tones of Mykonos and its seas.
P.S totally digging those fringe details!
Day 4 – Eden:
The verdant Eden print was worn on the ​fourth day which symbolised a statement among the delicate hues of the whites and blues of Mykonos.
Here's some really cool accessories I spotted which are too cool to miss:
The bride-to-be in the coolest tiara ever!
…and these earrings with feather details are def to die for!
As this troupe got together to bid adieu to Kaabia's single life, they also made sure that they stood out and heads turn at wherever they went in this Mediterranean paradise. Isn't that one cool bachelorette party idea?
The Proposal:
She said, "And this happened this Morning …. 5am . He put a 💍on it Never ever in my wildest dream did I ever think he would Pop the question like this . The most magical moment in my life and it's made a mark on my heart forever. Tears in my eyes , love in my heart and a blessing for Life. I love you to the moon and back forever and ever ❤️❤️❤️❤️❤️❤️."
Here's wishing this couple a lifetime of togetherness!