Lehengas, Sarees and all – Our Favourite Bridal Looks from 2015
Ever been on your way to a wedding, looked over at your friend/mother/sister and asked "I wonder if the bride will wear a lehenga or is it going to be a saree?" The blatant reality of Indian weddings is that the bride's attire is sure to steal the show (sorry, grooms). Whether it's the way her lehenga sways when she walks under a phoolon ki chaadar or her musically coordinated footsteps that swerve with her gown down the aisle – the bride's ensemble ups the class factor at any wedding ceremony. So, we've put together 10 of the most gorgeous bridal attires we spotted in 2015, handpicked exclusively from our Real Weddings. Ranging from Paithani sarees to stunning wedding gowns, all of these attires are oh-so-stare-worthy and sure to inspire you.
Rose Pink Velvet Lehenga
Designed by none other than the guru of bridal wear, Sabyasachi Mukherjee, this piece puts together regal textures of velvet and gold sequins in ethnic, patterned motifs which make the perfect bridal lehenga. We love the fall, flair and textures of this entire attire and how flawlessly the subtle sheer white dupatta complements the rose pink lehenga and choli.
Take a look at more photos from this wedding here.
Mermaid-Cut Wedding Gown
The mermaid style wedding gown flatters petite brides as it hugs the body down to the knees, and then flares out like the shape of a fish's tail at the bottom. This gorgeous gown is a million times more special, as it cannot be found at any store or even online. Karen's wedding gown was the handiwork of Flavia Pereira – her childhood friend's mother. It took 17 long days, just to make the upper half of the gown, but the result was absolutely breathtaking, as you can see! The outfit had intricate threadwork along with silver bead and sequin detailing on the top while the bottom part flared beautifully with a sheer white net.
Take a look at more photos from this wedding here.
Purple and Gold Kanjivaram Silk Saree
South-Indian brides and Kanjivaram silk sarees go together like stars and stripes. This beautiful bride, Pavitra opted for an all-out traditional look with her jewellery and saree, which had gorgeous gold motifs weaved into a royal shade of purple. It was draped crisply on her with Kempu and Coin jewellery, which added the perfect touch of elegance to her entire ensemble.
Take a look at a few more photos from this wedding here.
Red Paithani Silk Saree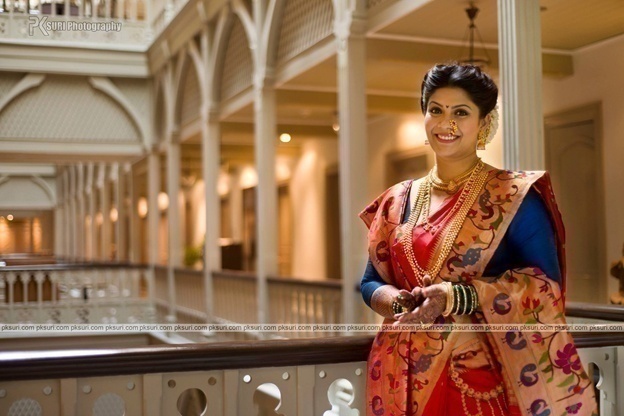 The gorgeous bride, Radhika wore a Paithani silk bridal saree in a traditional shade of red. Her saree had a bold border with peacock and patterned floral motifs – one design that we had never seen before! She paired this six-yard long beauty with a cobalt blue raw silk blouse, which complemented the saree just perfectly.
Take a look at more photos from this wedding here.
Blush Pink Sequined Lehenga
Say a big 'yes' to pinks, golds and all things sparkly– three sure shot elements that will make your lehenga absolutely extravagant. This all-over sequined lehenga worn by Shagun had a blush pink base embellished with shimmery gold and silver sequins all over. Her dupatta was made with a simple, sheer net that added an element of understated grace to her entire bridal look. A perfect pick for the modern-day bride!
Take a look at more photos from this wedding here.
Silver Textured White Wedding Gown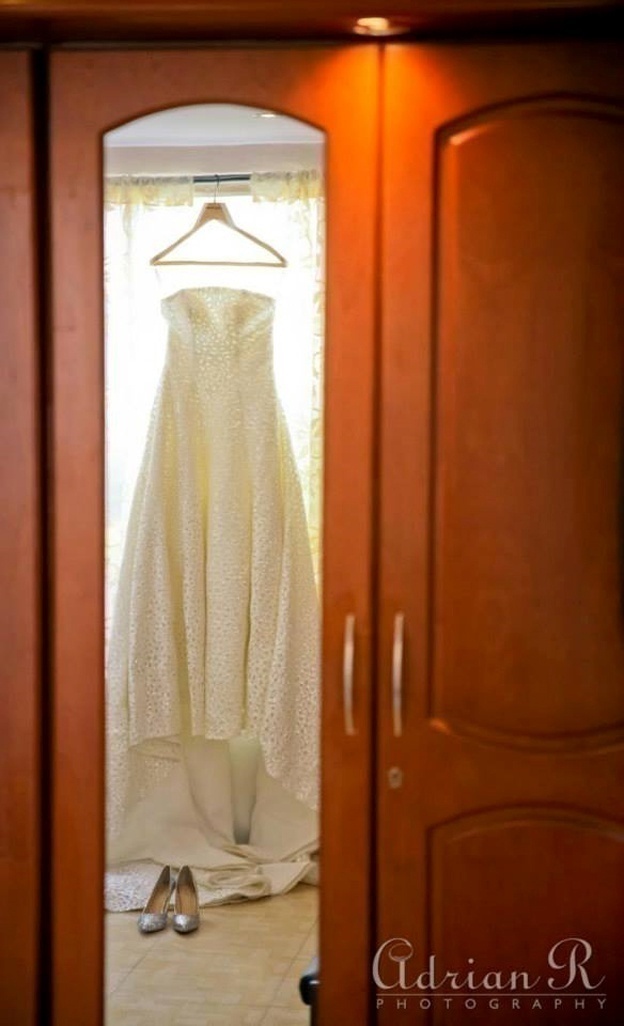 Long gone are the days when brides wore pure white gowns with multiple frills and cinches. Textures, embellishments and threadwork are now the new trends in the wedding market. Brides, like Griselda, opt to keep the element of style yet not leaving behind the traditional white colour. She opted to wear a ball gown that had silver textures all over, from the neckline right to the end of her long trail held by her beautiful bridesmaids.
Take a look at more photos from this wedding here.
Red Saree with a Fuschia Bridal Dupatta
This South-Indian bride made a mark by breaking the streak of Kanjivaram sarees with her red georgette saree that had minimal embroidery and crystal stone embellishments. Ekta paired this red saree with a sheer fuschia dupatta whose border was embedded with gorgeous gold zardozi. We absolutely love how this bride picked something unusual and balanced her look with a combination of temple and coin jewellery – a mash-up that truly left us inspired!
Take a look at more photos from this wedding here.
Red and Gold Kanjivaram Silk Saree
Another Kanjivaram look that we couldn't help but feature. A solid coloured silk saree with bold weaves of gold, which is perfect for a bride who wants to keep her jewellery minimal – that's exactly what we loved about Pratha's look! Her saree made a statement while her jewellery acted only as an element that uplifted her entire look.
Take a look at more photos from this wedding here.
Off-White and Maroon Lehenga
Ever heard of white pearl embellishments on a bridal lehenga? Well, that concept looks just as beautiful as it sounds. Here, we see Miloni wearing a stunning off-white and maroon lehenga that had detailed embellishments of white pearls and crystals all over. The pearls, coupled with the deep maroon colour along the border, added an excellent amount of elegance to her entire bridal ensemble.
Take a look at more photos from this wedding here.
Pretty Peach Wedding Gown
A bride who dared to be different and did it oh-so-perfectly! We loved Yashada's pretty peach gown designed by the talented Michelle Rodrigues. Her gown had rose inspired threadwork embroidery all over the bodice, which subtly flowed down to the beautiful A-line flair.
Take a look at more photos from this wedding here.
These ten brides proved that it's never a bad idea to detour a little from the usual. True beauty lies in the love reflected with beaming smiles and attires only help bring that out. So, if you're a soon-to-be-Mrs, we're sure you'll glow with love and look glamorous on your special day.