Simple DIY Hairstyles for Your Pre-Wedding Functions That You Could Execute Yourself
Whether the mehndi is rachnewali or not, the detailing on the gift packaging, the fresh flower décor, to the colour of the carpet, your wedding guests will notice all this and more and take back little vignettes of memories from your especially planned pre wedding functions. However, all things aside, what everyone will really remember is the bride, o the bride! Your look at your mehndi or your haldi will be talked about and analysed like a red carpet affair at the Cannes Film Festival. Your clothes, your make up and your hair, will become subjects that'll make more headlines than world affairs at your wedding times. Yes, your hair too! So let's talk about it, shall we.
Given that your hair will probably be tied up and covered with a dupatta on your wedding day, pre-wedding functions give you an opportunity to get creative with your hairstyles. 
But what if you've already maxed out your credit card paying up for your bridal couture, the best makeup artist and hairstylist in town for your wedding day that coughing up more money for a pre-wedding hairstylist is choking you up? Or perhaps your hair stylist decided to bail on you last minute, or maybe you never got a booking from someone you really wanted. These simple DIY hairstyle hacks are here to your rescue.
These easy, elegant do-it-yourself styles will surely amaze your guests when you tell them you didn't hire a stylist to manage your naturally beautiful tresses.
These easy-peasy styles can be mastered by newbies too. So go on, tress to impress!
Photo By: The Cheesecake Project
Loose it
If you have long beautiful tresses you could easily work around these DIY hairstyles for your pre-wedding functions
Retro Waves: These outward curls give you a stunning old school flirty look that is chic and glamorous at the same time.
Loose Natural Spiral Waves: Blessed with loose natural wavy hair or soft curls, then simply comb them neatly in a side swept style and fancy it all up with a flower or jewelled brooch. A hairspray should work just fine to hold those waves strong.
Hollywood/Structured Waves: Section your hair, curl, clip and spray. Voila! That's all you need to do to achieve this chic vintage look.
Classic Straight: For those Rapunzel-like long tresses a classic straight look can never go wrong. Just add a little shine and shimmer with hairsprays to make it sparkle.
Pin It
What magic can little pins do to your hair? Find out!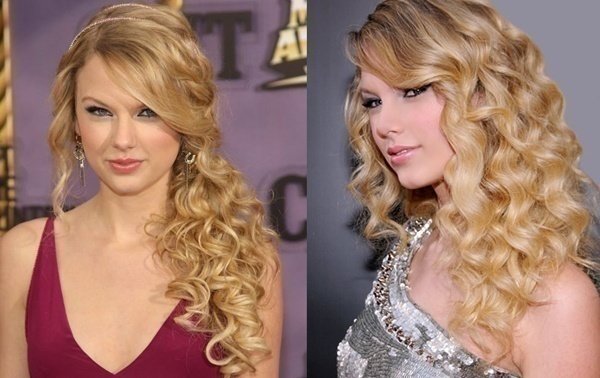 Intense Curls: Curl up those gorgeous tresses, now it's time to play. Puff up the centre or pin them to sides, the details of your curls either way look oh so stunning! You could also pin up those layered intense curls at the back for an organised look. While you do so, remember the golden rule of curls, "texture is everything". So, DO NOT forget to add texture to those curls.
It's all in the Bangs! : Side swept bangs can uplift your look like you've never imagined. Just give your hair a centre puff and let those bangs sway onto our side. You could also try on a wavy bang for an edgy look.
Half Way Up – Half Way Down
Don't want to simply let down your hair or even tie it up completely? These DIY half up – half down styles could help and invite a lot of compliments. Give it a shot!
Twisted fishtail: Blow-dry your hair into curls or wavy, take side sections of your hair, twist them and braid in a fishtail style. Simple, easy and mind-blowing this chic style could easily grab all the attention at your function.
Waterfall Braid: This one might require a little practice. But if done correctly could be quite a show-stealer. Whether you have naturally curly hair or straight, these braids give an amazing effect on both. This braid style has been pretty popular on Pinterest lately.
Tie Em Up
Spice up the mundane ponytails with these easy DIY hairstyles
Photo By: U Like Fotographia
Side Braided Fishtail: This one is similar to the twisted fishtail; only thing it includes all off your hair. Give your hair some soft curl effect and sweep your hair to side in a fishtail style. The detail of the fishtail technique is quite eye-catching in itself.
The Beauty Department
Piecey Ponytail: This twisted ponytail style can be done in no time making you look like a style diva. Whether you have the bangs or not, it doesn't really matter.
Barbie Ponytail:Feel like a princess, groom your hair like a princess too, we say. This bouncy ponytail will look fab for your cocktail dinners or any casual pre-wedding function. And it can be done in minutes. To add some more drama to the do, you can choose to puff it up slightly higher and add more curls.
Which looks do you like the best? Would you try any of these DIY hairstyles for your pre-wedding functions? Let us know about your very own hairstyle hacks at content@weddingz.in