The Courtyard House, Sarjapur Road – New & Exclusive Wedding Venue Preview!
Why the Courtyard House?
With wedding expenses skyrocketing, how many of us think if it's possible to simply get married in the comfort of our own home?! We bet all.
Only if it was easy to accommodate 200-500 people and provide them that homely comfort. But alas, if your home ain't a palace, drive down to The Courtyard House.
Nestled in the quiet lane off Sarjapur Road, The Courtyard House takes you away from all the shor in the city to its serene location just outside the city of Bangalore. Providing the convenience and comfort you seek and receive in your own home, this wedding venue is an ideal location for intimate celebrations.
Developed and run by Diva Ganeriwal (co-founder of Kitsch Mandi), you're sure to find her love for all things earthy in every brick and wall of this gorgeous boutique venue. Just one look at this captivating space is guaranteed to arrest all your senses.
What's So Unique about The Courtyard House?
1.5 acres of peaceful property.  A lush green lawn.  A lovely garden-style courtyard. A country house for accommodation. Exclusive access.
Let's explore!
The Courtyard:
Their circular garden-style courtyard creates an impeccable ambiance for haldi and mehndi function. Covered with lush greenery and blooming flowers, you need not spend much on décor. What adds more charm to this beautiful setting is the red brick house in the background forming a perfect background for extraordinary photo captures. 
The Lawn:
Here you can set the stage for your small gathering sangeet or set up for an intimate wedding ceremony and reception. This small yet versatile space can be easily designed to suit any wedding theme. Vintage, bohemian and rainbow are some of the wedding themes that will totally uplift the surrounding and set the mood for your classy celebration.
The House:
To take absolute care of you and your wedding guests' comfort, a spic and span three-bedroom country house is provided for accommodation. The bride and groom can use these as their changing rooms or as rest rooms for your attendees. The rustic interiors with earthy inclusions such as artistic pots, paintings and swing, add an old world charm making this boutique venue stand out from any other wedding venues in Bangalore.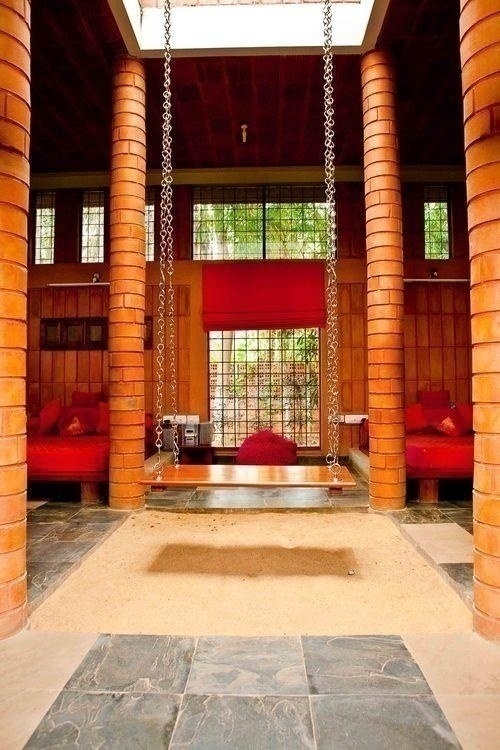 Other Highlights:
Given the picture-perfect venue that it is, The Courtyard House is also particularly popular for photo shoots and retreats. Ideal spot for cosy and romantic pre-wedding shoot?! We think so too! Mesmerising passages, a pond and other artfully decorated smaller pockets across the venue offer a lovely setup where you can stunningly capture romantically candid moments.
Pricing?
This gorgeous boutique wedding venue can be rented out for Rs. 65,000/- onward. The venue is open to using services provided by vendors of your choice. While you can exclusively book this venue for your private celebration, for everything else you have Weddingz.in. 😉
Location:
Sarjapur Road, Carmelaram
To book this venue, click here.