Umbrellas and Parasols – The latest Indian wedding craze!
Gone are the days when umbrellas were only used at weddings during monsoon or for outdoor functions, particularly on sunny days. Umbrellas and parasols are quite a rage at Indian weddings. Whether it is a pre-wedding shoot, an engagement party or a wedding, brides are going gaga over these, and they have started to become a permanent fixture at functions.
Here are some dulhans or to-be-dulhas who aced their game in photographs by using umbrellas in the most unique way possible:
1. The phoolwaali chhatri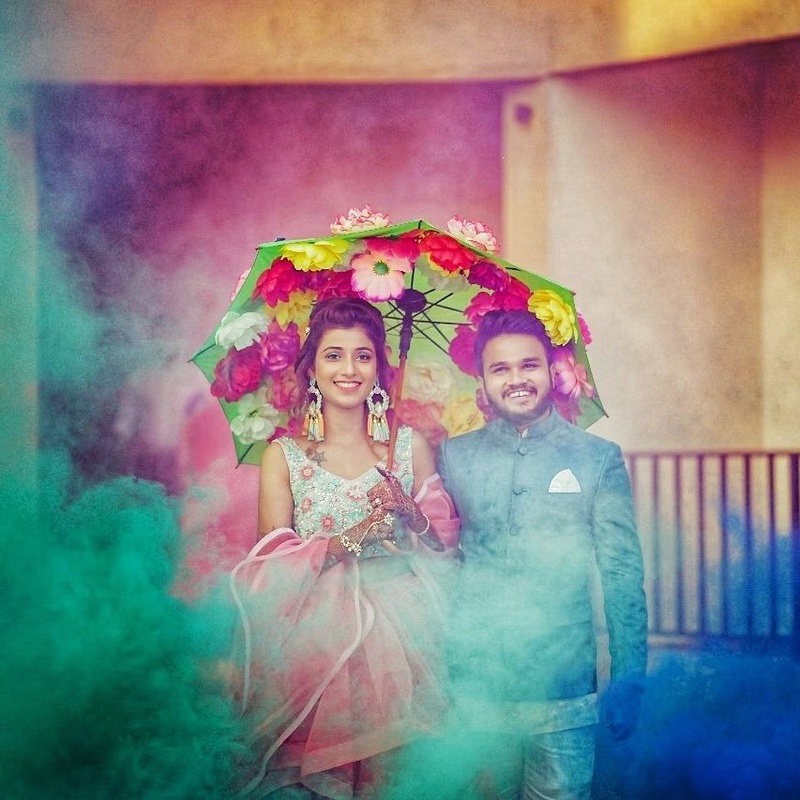 Image source: busybeestudio
This bride is holding a green umbrella with large multi-coloured flowers, stuck on the inside and outside. The different hues used in the picture make it attractive and eye-catchy.
2. Mirror work umbrellas
Image source: ronsoliman
This picture is a burst of colours! These vibrant umbrellas with attractive embroidery and 'sheesha' work compliment the outfits of the bride and groom perfectly.
3. Simple flower umbrella
Image source: shutterdownphotography
This umbrella with big, bright pink and purple flowers is sober and goes well with the outfits, moreover, it is best to have an elegant umbrella with pastel colours especially if the function is during the day.
4. Lavender parasol
Image source: Filmmystory
This bride has a bit of lavender in her outfit, the reason being her lavender parasol with a flower design on it, is a flawless match. This prop adds the extra fun and 'masti' in the picture, not to miss her priceless expression.
5. Embroidered umbrellas
Image source: gautamkhullarphotography
This picture is no short of a colour pallette, with an array of bold colours not only on the outfit but also on the primary element- the umbrellas. The embroidery on the umbrella adds to the traditional 'desi' touch.
6. Japanese theme
Image source: ankita_asthana
Here, the bride is exclusively showing off a pretty pink parasol, while the rest are seen with Japanese fans, assuming that must be the theme.
7. Red and white
Image source: glenabog
The lehenga of the bride and the dual-coloured umbrellas look like a match made in heaven. The photograph is riveting in a unique way and we can't get our eyes off it!
8. White, minimalistic umbrellas
Image source: shutterdownphotography
This set-up looks straight out of a cute and chic fairy tale. The white lace umbrellas decorated with baby pink and white flowers is gorgeous, fresh and young. The idea of glass bottles hanging from the top and curtains with pastel shades, adds to the cozy and warm look.
So, have you zeroed- in on how you will incorporate umbrellas in your D-day decor?