All the pics from Priyanka Chopra's Mumbai reception where she introduced Nick Jonas to her guests!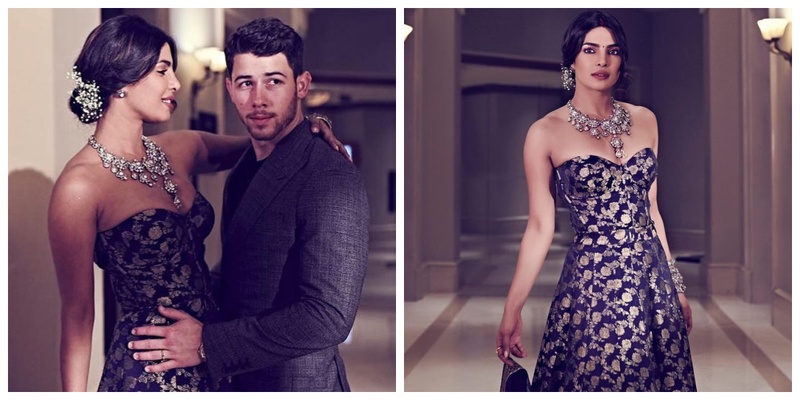 If you thought Priyanka Chopra and Nick Jonas' wedding festivities came to an end, here's yours truly telling you 'you guessed it wrong'! After a grand reception in Delhi, Priyanka's mom – Madhu Malti hosted a very intimate reception for the couple at J W Marriott, Juhu and it definitely was a night to remember. Scroll down to know more:
The Couple:
Priyanka stunned her guests in a royal blue strapless custom-made Anarkali by Sabyasachi with gold detailing.
She completed the look with victorian jewellery by Sabyasachi itself, minimal makeup and her hair tied up in a bun adorned with baby breath flowers.
P.S., really loving how she is carrying the sindoor with all her looks these days!
Nick on the other hand complemented PC in a light grey suit, looking her dapper self!
Priyanka began with, "I want my husband to meet all the people who have come to meet him. So thank you so much for being here. Friends of my parents, my mom who is hosting this wonderful evening and my dad who I know is here. Thank you so much for coming and giving us your blessings and I hope you have a wonderful time tonight. And this is my husband Nick Jonas."
As Nick took over the mike from PeeCee, he said amidst the loud cheers, "This is my first show in India. Thank you all so much for coming here. It wasn't too far from here that I took Madhu out for lunch so I could marry her daughter. And all of you have welcomed me with such open arms. So thank you for that. Tonight is about celebrating and spending some time together. My first introduction to all of you. So thank you again and thanks to Madhu for putting it up together and my beautiful wife. (turning to Priyanka) I couldn't be happier being with you."
*awwwww*
Check out the video here :
Some more inside pictures:
Well well, here's awaiting their big-fat Bollywood reception now!