A Wedding In The Middle Of The Caribbean Sea? Why Not!
Forget a destination wedding at the beach, we bring to you a couple who went all out and said 'I do' literally in Caribbean waters.  Susana Zamos, along with her groom Jovany lived her dream of a fairytale mermaid wedding and trust us, it was beyond beautiful. They even had a mermaid/merman wedding shoot and the pictures are simply breath-taking.
Clear blue waters, the bride's billowing white gown and all the romantic moments are just a few stunning details of this ocean wedding.
Of course, this was twice as challenging as any other wedding and did require a lot of planning and preparation. Their wedding planner even dismissed the very idea of a wedding in the waters! But their dedicated photographer, Sol Tamargo and her team at Del Sol Photography were committed to Susana's dream and took it upon themselves to make it happen. We all need photographers like this! :')
Susana and Jovany's dream became a reality when they, along with 100 of their guests, were boated to the El Cielo sandbar in Cozumel, Mexico for the wedding ceremony.
Susanna wore a pink Maggie Sottero wedding dress on the big day.
"I have always loved the water. I'm a scuba diver and was fortunate enough to grow up with a pool in the backyard and the sea not far away. "My happiest days were always in the water." she says on Del Sol Photography's site.
In total, a team of eight photographers, videographers, and drone operators helped capture the special day, using three cameras in underwater housings, two "dry cameras," and a DJI X5 in high winds. For the bride who calls herself a "mermaid," the day couldn't have been more perfect.
Keep scrolling for the beautiful pictures!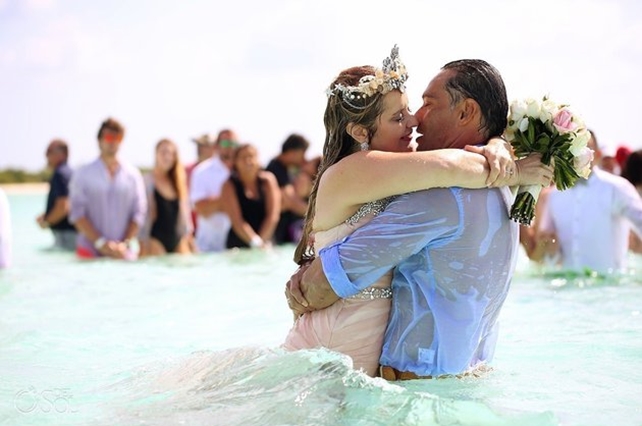 Credits: Del Sol Photography; cosmopolitan.com;
You may like these too: